Ducray becomes a Climate Solidarity Ambassador
November 26, 2015
At COP21, our DUCRAY brand joined the community of Climate Solidarity Ambassadors created and led by the environmental NGO GERES. The objective of this approach is to encourage the emergence of a society that is more aware of the challenges of global warming and the resulting necessary changes to the economic model.
Committed to working alongside an ngo to protect the environment
GERES (the Renewable Energy, Environment and Solidarity Group) is an environmental NGO, which "works to protect the environment, limit climate change and its consequences, reduce fuel poverty and improve the living conditions of the poorest populations".
The Climate Solidarity Ambassadors recognized by GERES are committed to observing the Climate Solidarity charter based on six founding principles and two major challenges: reducing our carbon footprint and supporting vulnerable populations in their low-carbon development.
DUCRAY - a unique ambassador in the health sector...
DUCRAY is the first, and as yet only, Climate Solidarity Ambassador in the health and dermo-cosmetics sectors.
...recognized for our long-term action
By becoming an ambassador, DUCRAY is building on the climate commitment made in 2009:
Image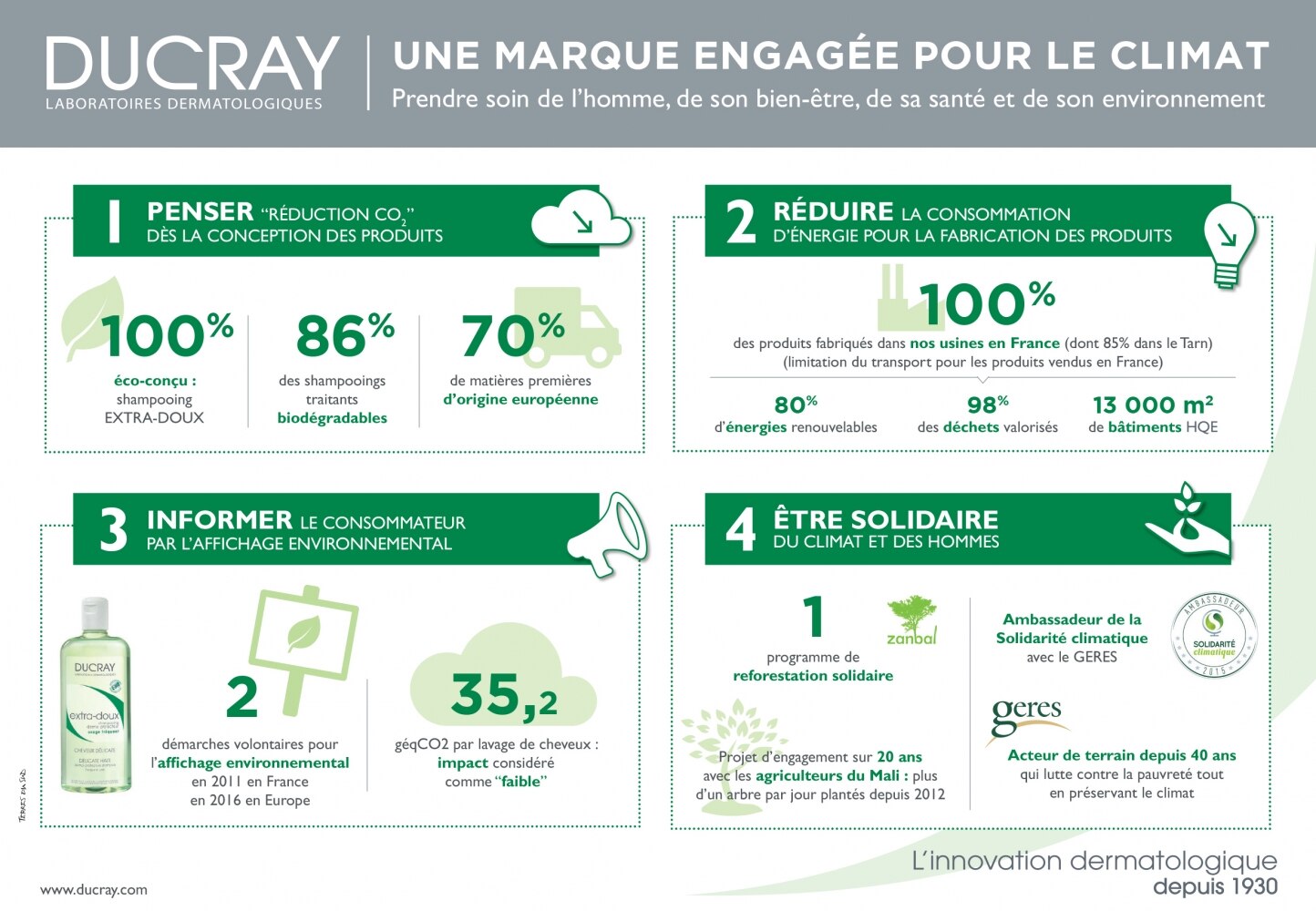 When we fight for the climate, we help to boost well-being for all. With 85 years of useful innovation in dermatology, the DUCRAY brand contributes to the well-being of patients and consumers. We take an overall approach: taking care of individuals, their well-being, their health and their environment, both here and elsewhere. Becoming a Climate Solidarity Ambassador means building on our commitment and demonstrating our solidarity towards the most vulnerable populations. Antoine Duhamel, Director of DUCRAY Dermatological Laboratories
Watch the video of DUCRAY's action against global warming (in french)
Acting by signing a unique public, supportive appeal
On December 5 at the Grand Palais in Paris, GERES and the Ambassadors will submit an official Appeal for Climate Solidarity to Nicolas Hulot, to demand more fairness and solidarity for vulnerable populations in international negotiations on the climate. Just like DUCRAY, every citizen can join the appeal and support this action campaign.
Image