Get running to promote the link between oral and dental health and general health: the Dental Run Care organized by Pierre Fabre Oral Care at the ADF
1 December 2017
Get your day off to a good start, in a good mood and for a good cause!  This will be the catchphrase of the brave participants in this 1st edition of the "Dental Run Care" fun run to be held in Paris on December 1, organized by Pierre Fabre Oral Care teams. Spotlight on an original, caring initiative!
What exactly is the Dental Run Care?
Organized by Pierre Fabre Oral Care on December 1, as a side event to the ADF congress—the dentistry profession's top event of the year—the Dental Run Care is the first edition of a 5km fun run through Paris, aimed at all dentists and dental surgeons. Participants will have to get their running shoes on at the crack of dawn: start time 6:30 am!
Link between oral and dental health and running
Via the Dental Run Care, the Pierre Fabre Oral Care teams are aiming to promote the close link between sport and general health and, more specifically, oral and dental health. The primary goal of this fun run is to demonstrate to everybody, including the general public, how closely dental health and sport are interrelated.
"These days, everyone is aware that good oral and dental hygiene is an essential component of our overall health, as is physical exercise," explains Sylvain Levet, medical director of Pierre Fabre Oral Care.
Participants coached by the French champion Mehdi Baala
Participants will be lucky enough to warm up alongside an exceptional coach: none other than Mehdi Baala, European 1500 meters champion in 2002, World Championships silver medalist in 2003, Olympic medal winner in 2008, winner of numerous sporting events, and still the French record holder for this distance. He is now Performance Director for the French teams competing within the French Athletics Federation.
Image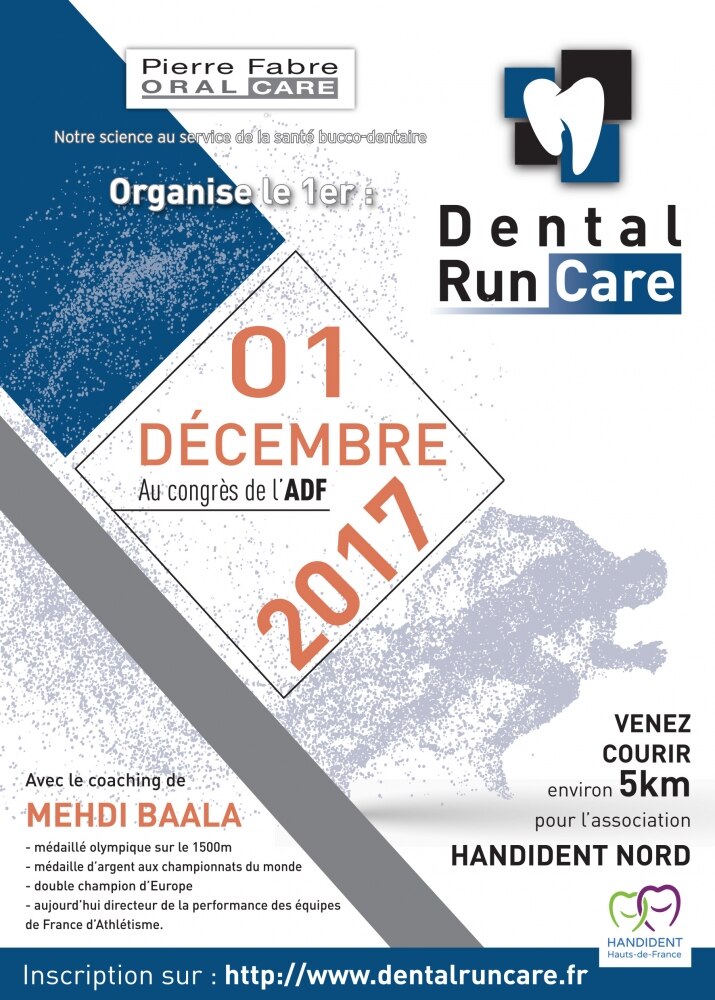 Get running for a good cause 
The brave professionals who will be joining us for the run are all committed to a good cause! This fun run is actually a way of supporting the Handident association based in the Hauts-de-France area: an association that defends the right of people with disabilities to have access to good dental and oral care, irrespective of their disability.  Pierre Fabre Oral Care is eager to offer its support, and will make a donation to the association. Join us after the run at 11:00 am, at the Pierre Fabre Oral Care stand at the ADF.
Signing up for the run couldn't be easier: www.dentalruncare.fr
Until then, anyone who would like to receive customized advice for the run (even people not planning to participate), or general information about running as an activity (training programs, stretching, equipment, etc.), can do so simply by posting questions to the following address: dentalruncare@pierre-fabre.com