Looking for your internship? More than 300 opportunities are waiting for you
October 27, 2015
Every year, Pierre Fabre Laboratories hosts more than 300 students from all backgrounds, from business and engineering schools, and those pursuing university and technological degrees. An integrated company, we handle the entire life cycle of products and offer students the option of exposure to a wide variety of professions: regulatory affairs, production, supply chain, marketing, finance and more.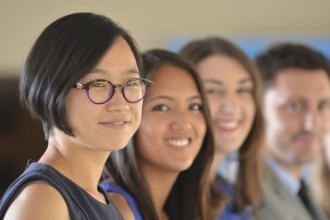 In addition to finding a profession, undertaking your internship at Pierre Fabre is an opportunity to learn about the operation of the 3rd largest French pharmaceutical group and the 2nd largest dermo-cosmetics company in the world, with a presence in France and more than 40 other countries.
Our company is pursuing an ambitious development strategy and offers you the prospect of joining a group that conducts many different projects. Supported by our staff, you will find yourself in a stimulating work environment. The company is guided by strong values and is people-oriented, which makes work meaningful.
Our interns policy was recognized for the 3rd consecutive year with the "Happy Trainees" award, which recognizes excellence in the hosting and support of students. This seal of approval was overseen by the independent body www.meilleures-entreprise.com in 800 companies. We came in 19th place out of 95 companies awarded this distinction.
Joining Pierre Fabre Laboratories involves working:
From Health to Beauty, on exceptional brands and products
In a privileged relationship with Nature
In a partnership-based approach
For an alternative vision of business economics
In a people-oriented company
With opportunities for professional and personal development
Towards a new frontier, the internationalization of the company
and making work meaningful.
To find out more about our internship policy and positions available
See our interns on video.