Pierre Fabre, a group where interns and work placement students are happy
24 October 2016
The Pierre Fabre group receives the Happy Trainees label for the 4th year in a row and is in 16th place in the category "from 100 to 500 interns."
The ranking, produced by "Meilleures-entreprises.com," highlights companies that pay attention to the "hosting, support and management of their interns." These companies are graded exclusively by their interns and work placement students, within their category: more than 500 interns, from 100 to 500 interns, from 20 to 99 interns and, lastly, from 1 to 19 interns.
497 interns and work placement students from the Group responded to the survey, the majority of whom recommended our company. They all expressed their opinions on 6 aspects: Career development, Motivation, Pride, Stimulating environment, Fun and Management. 
Image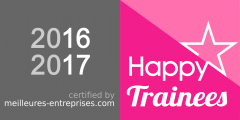 At Pierre Fabre, we believe that internships and work placements for students are fundamental choices in a career. It is not just an obligation entered into through school or university, but rather an opportunity to discover a profession, enhance knowledge and learn from our teams. This is why we are delighted to receive this reward and we wish them all the best!