Pierre Fabre Dermo-Cosmetics opens an innovation center in Brazil
26 September 2018
During a visit to Brazil, Eric Ducournau, Group CEO and Nuria Perez-Cullell, CEO Dermo-Cosmetics (PFDC) Division, announced the opening of the Pierre Fabre Dermo-Cosmetics Brazilian Innovation Center. The announcement was made at the Maison de France in the presence of the Deputy Consul General of France in Rio de Janeiro, Mr. Jean-François Laborie. 
 
Image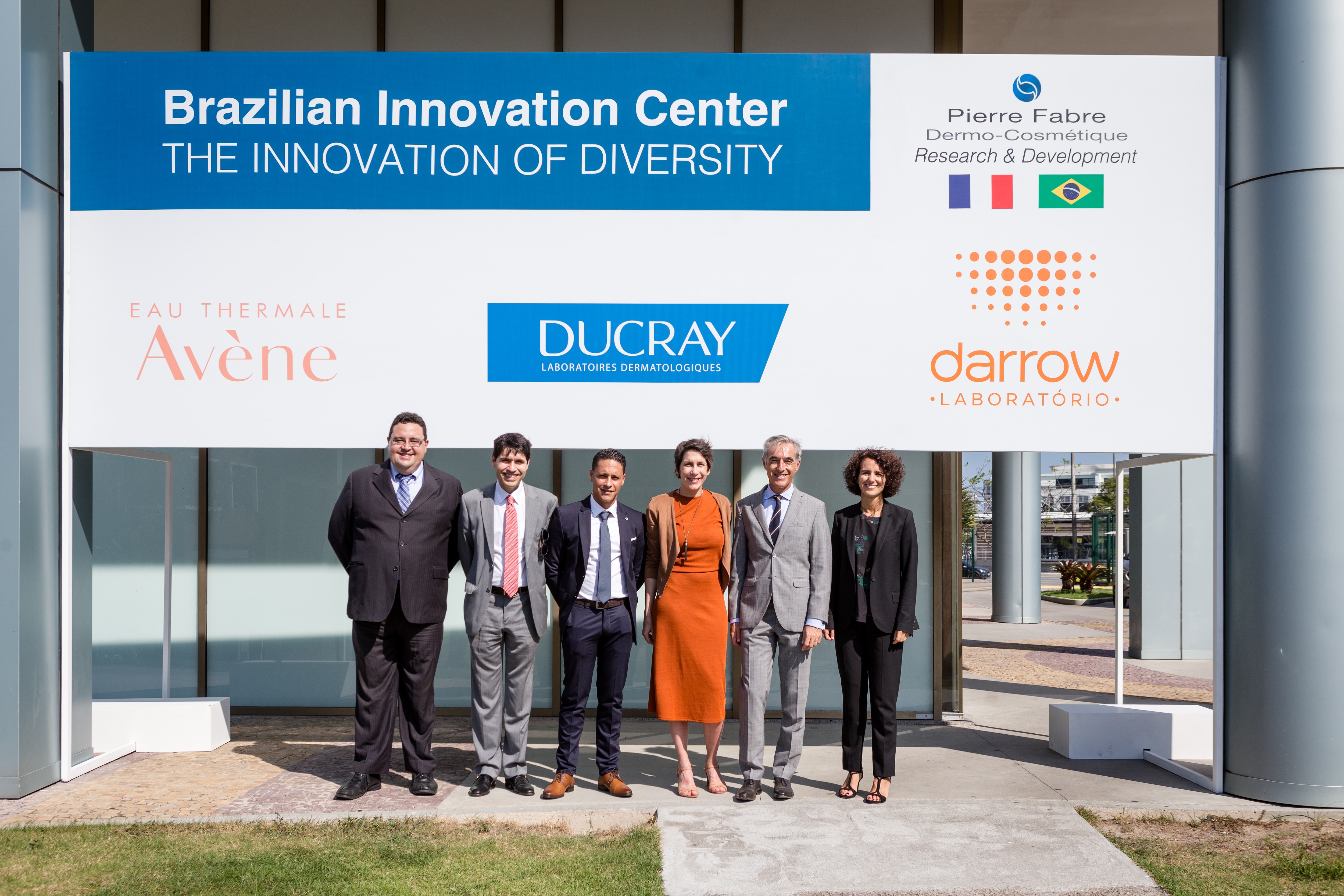 The Pierre Fabre Dermo-Cosmetics Brazilian Innovation Center is headed by Anne-Laure Gaudry under the responsibility of Xavier Ormancey, Director of PFDC R&D. Covering an area of 320 sq. m, it is located in the Carioca district of Barra da Tijuca and has a branch on the Areal industrial site in the state of Rio de Janeiro. Designed and organized according to the most advanced scientific and technical standards in the cosmetics industry, it will have around twenty researchers and technicians by 2021. This multidisciplinary team will work together with 5 other PFDC laboratories located in France and Japan, as well as with the 335 employees in the Brazilian subsidiary of PFDC. To give some perspective, Pierre Fabre reinvests about 4.5% of the revenues from its dermo-cosmetics business in R&D every year, which places it at the high end of the global cosmetics industry. 
The Brazilian Innovation Center of PFDC will pursue a three-fold mission: to better understand Brazilian skin types from a dermatological point of view as well as the sociological needs of Brazilian consumers, to detect in advance upcoming trends in one of the most sophisticated and inventive cosmetics markets in the world, and to boost the development of new products adapted to the local market for the Eau Thermale Avène, Ducray and Darrow brands. This innovation center will operated based on the model of the Asian Innovation Center (AIC) opened in Japan in 2015. AIC has already demonstrated PFDC's ability to transform the development of products specifically tailored to the needs of Asian skin types into commercial success.  
Nuria Perez-Cullell, CEO Dermo-Cosmetics Division, said that Brazil, the world's fourth largest cosmetics market, is of major importance for our company. The Brazilian dermatological school is famous all over the world. The Brazilian population has an incredible mix of skin and hair types and Brazilian consumers are particularly sophisticated and demanding when it comes to cosmetic products. It was therefore natural for PFDC to set up its second international innovation center in this country, and I am confident that its teams will develop formulas and products that will be appreciated first locally and then beyond Brazilian borders.
With a presence in Brazil since 1985, the Pierre Fabre Group is now developing both its pharmaceutical and dermo-cosmetics businesses here. Following the acquisition of Darrow Laboratories in 2006, the Group owns a plant specialized in the production of dermo-cosmetic products in Areal (in the state of Rio de Janeiro). : In 2017, the products marketed by Pierre Fabre do Brasil achieved consumer sales in excess of 300 million real (€62 million), up 10% compared to the previous year. With its Eau Thermale Avène, Darrow and Ducray brands, PFDC is the 3rd leading player in the Brazilian dermo-cosmetics market.
Brazil is a country of strategic interest for our Group and Pierre Fabre do Brasil is one of our most dynamic subsidiaries with an average annual growth of 24% over the past five years, said Eric Ducournau, Group CEO. In 2015, we launched a major investment plan to the tune of 50 million real, notably to modernize our Areal plant. We are furthering this effort today by opening our second international innovation center in Rio de Janeiro. It is a great opportunity for us to welcome Brazilian talent into our R&D teams and thus enrich the human and cultural diversity of our Group.
Image