Pierre Fabre interns and work placement students are Happy!
September 28, 2015
Almost 300 Pierre Fabre interns and work placement students responded to the Happy Trainees survey carried out by meilleures-entreprises.com in partnership with Le Figaro Etudiant.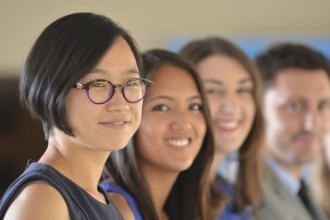 For the third time in a row, we received the Happy Trainees label as one of over 1,000 companies that were rated. Our students praised the quality of the hospitality, the support and the management within our company and 84% would recommend us as a first-rate employer for completing their internship or work-study placement. We would like to thank all of the young people who shared their experience through this survey.
For many years, Pierre Fabre Laboratories has been investing in training and employment preparation for young people in various ways (internship, work-study placement, Excellence Marketing Program, Graduate Program) and an active policy of partnerships with national and international schools and universities.
Want to join in the Pierre Fabre experience?
We have challenging projects on offer across a broad range of professions, in connection with exceptional products, within an international environment. Join us by applying as of October for 2016 internship opportunities.