Pierre Fabre Pharmaceuticals in quest of solutions for and with patients: "Uro-Tech Challenge"
28 November 2016
Urge incontinence, urgency, incontinence, pollakiuria: these medical terms might not mean much to you, but they affect the daily life of more than 20% of the population (men and women over 40 years). In view of this, Pierre Fabre Pharmaceuticals, a major player in the treatment of overactive bladder (OAB), has invited start-ups, IT services companies, marketers, and developers to come up with innovative solutions for the greater well-being of patients as part of its "UroTech Challenge" hackathon on November 25 and 26, 2016 in Deauville. 
48 hours of innovation for patients
As part of the 27thHealth Communication Festivalorganized in Deauville on November 25 and 26, developers, designers, marketers, IT services companies, start-ups, and freelance designers will come together to devise innovative solutions to improve the lives of patients with overactive bladder. Professor Xavier Gamé, urologist at the Rangueil University Hospital (31), will introduce the topic at the launch of the hackathon. Then, each group formed will receive personalized coaching by mentors specialized in overactive bladder (doctors, patients, and scientific experts). Business, design, and health experts will go from group to group to answer all the questions of the "hackers." The candidates will work for more than 24 hours and then pitch their project to the jury on Saturday from 2:30 p.m. onwards. This is part of the Pierre Fabre Group's efforts to develop ideas for innovative healthcare solutions that could change the lives of patients with overactive bladder (OAB).
Image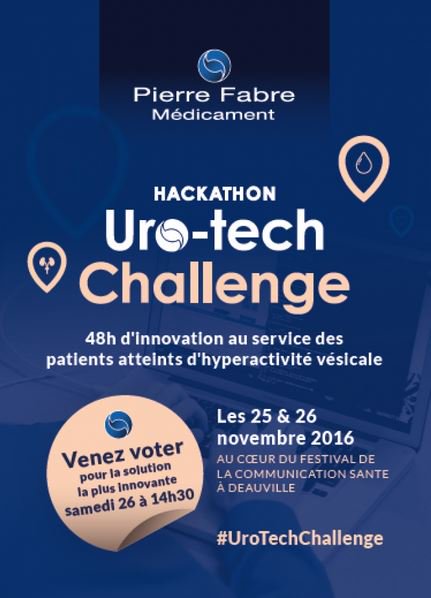 A hackathon to help patients, for them and with them!
The Association of Assistance to Incontinent Patients (AAPI) is partnering the event and will be widely represented. Patients will be at the core of the teams to enlighten them on their quality of life and difficulties encountered on a daily basis and to answer any questions. Dr. Odile Cotelle, President of the association and member of the jury, as well as Ms. Edith Cordier, General Secretary, will speak on behalf of the patients during the launch.
Support for winners until their projects become a reality
At the end of these 48 hours of innovation, three prizes will be awarded: The Code Award (€1,000), the Audience Award (€500), and the "Incubation" Award: the 3 most innovative projects will enter the Pierre Fabre incubator for 2 months where they will be finalized to give rise to concrete solutions for patients. Stay in touch to find out the 3 winners in just a few days! 
#urotechchallenge