The Foundation for Atopic Dermatitis supports hospital teams in therapeutic patient education
May 22, 2015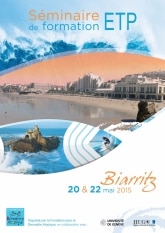 In order to facilitate communication between patients and caregivers by better adapting to individual personalities, the Foundation for Atopic Dermatitis organized a training seminar for French hospital teams who practice therapeutic education.
The aim of therapeutic education is to boost patient knowledge of their disease so that they can become more independent in their fight against it and its side effects, and thus improve their quality of life. Hospital teams who practice therapeutic education have a mission to provide patients with information and training to help them to adopt good practices in everyday life. To support the teams in this mission, the Foundation for Atopic Dermatitis invited dermatologists, nurses, pediatricians and psychologists to reinforce their approach by:
better taking the patient's personality into account in the training process
identifying levers of behavior change

improving verbal and non-verbal communication
The plenary sessions and workshops were led by experts in the field of therapeutic education such as Prof. Alain Golay (Therapeutic patient education department at the University Hospital of Geneva), Prof. André Giordan (University of Geneva) and Prof. J.F D'Ivernois (Educational Science - IPCEM [Medical Communication and Education Development Institute] - Paris).