Our R&D applied to health
A patient-driven integrated research 
 
We design and develop innovative solutions in collaboration with partners and health care professionals, constantly drawing our inspiration from nature and plants, always placing the patient at the heart of our research and development.
Pharmaceutical R&D figures
Our pipeline
Pierre Fabre Group researchers work tirelessly to develop innovative treatments and technologies in the fields of oncology and dermatology.
Discover all our molecules currently in development.
 
Download the file
Thank you for the interest you give to our publications. Before accessing to our document, please tell us more about you.
Pharmaceutical research areas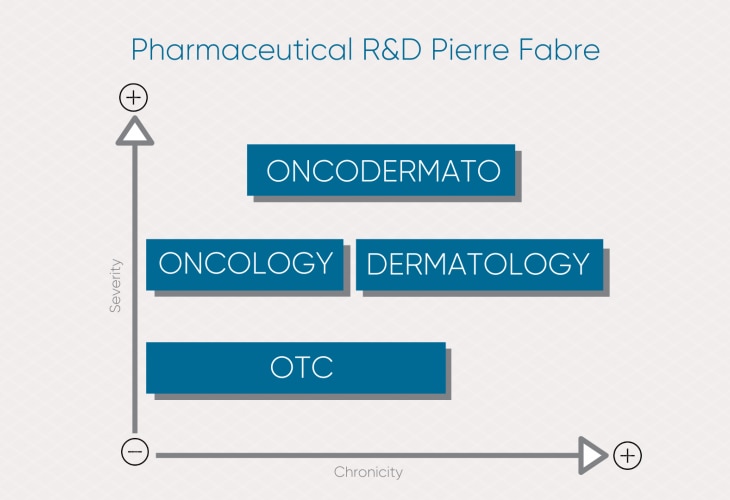 Pierre Fabre invests in 4 lines of pharmaceutical research to devise innovative solutions and provide therapeutic solutions for unmet needs.
Our integrated, cross-disciplinary research, from health to beauty, generates value for patients and health care professionals.
Oncology R&D
Cancer is currently the second highest cause of death in the world, despite the immense progress accomplished over the last 30 years by oncology researchers and specialists around the world.
Pierre Fabre has been a player in oncology since 1978 and has solid expertise in cancer of the lung, breast and bladder and more recently melanoma.
Today the Group makes oncology research its R&D priority.
Pierre Fabre brings its expertise in the research and development of molecules to the development of new biological entities and targeted biotherapies. 
We place precision medicine at the heart of our strategy to provide the right treatment for the right patient at the right time by exploiting the synergies of molecular oncology and immunotherapy.
We take advantage of a global approach centered on the patient to strengthen our scientific understanding of the tumor microenvironment and our capacity to supply high-quality biological products based on multiple technological platforms such as monoclonal antibodies and immunoconjugates.  
Dermatology and onco-dermatology R&D
The Pierre Fabre Group's dermatological research employs cross-disciplinary expertise in pharmaceutical and dermo-cosmetics research and development.