Business Development
Developing and innovating together
Our group has been built on the strength of our long-lasting partnerships. 
We are convinced that successful innovation and business development is boosted by the mutual sharing of complementary capabilities and expertise.
The best success stories are those that are written together.
A Model for Long-Term Partnerships
Pierre Fabre has grown to be a major international player in Pharmaceuticals, whilst maintaining a human dimension to our activities. This allows us to adapt quickly and act with creativity and agility to bring innovative projects with our partners to a successful conclusion, and to provide optimal access to markets and targeted promotion of differentiated therapeutic products. To embark on a collaboration with Pierre Fabre is to partner with a company which, through its unique shareholder structure, benefits from strong governance and stability, thus guaranteeing a long-term strategic vision. Our corporate alliances benefit fully from our expertise, allowing us to execute efficiently the agreements put into place with our partners.
Thus, at Pierre Fabre, we are committed to building partnerships which will develop and become richer over time. An Alliance Management team, in charge of current partnerships, ensures that the value of the collaboration is optimized at all times, both at project and corporate level.
Bringing R&D and marketing excellence to our collaborations
Our partnerships are built on the expertise of the staff which has made our company a success :
What are we looking for?
Oncology:
Oncology is a priority field of activity for Pierre Fabre, with more than 40 years of experience in the research, development and marketing of innovative products.
Through our Business Development activities, our primary interests are focused on innovative products ranging from the pre-clinical stage through to the late stages of development, including;
Innovative products targeting subpopulations of patients with solid tumors such as skin cancers, including melanoma, gastrointestinal cancers and cancers affecting women.
Targeted therapies focused on oncogenes, key signaling pathways in the tumorigenesis process.
Mechanisms in immunotherapy
We are particularly interested in different therapeutic classes including small molecules, monoclonal antibodies and antibody drug conjugates.
Prescription Drugs:
40% of the revenue of our pharmaceutical division comes from prescription drugs, particularly in urology, gynecology, rheumatology and pediatrics.
Pierre Fabre has developed its portfolio by signing different licensing and promotion agreements.
Our interest is focused on products ready to be launched or already on the market, in European territory and other key geographic areas (Africa, Asia and the Middle East).
We offer you the opportunity to launch and maximize the potential of your products in accordance with agreements adapted to your needs, to provide patients with therapeutic solutions.
Dermatology:
Pierre Fabre Dermatologie is one of the main players in the field of medical dermatology. We have a particular interest in the following therapeutic areas;
-onco-dermatology (basal cell carcinoma, squamous cell carcinoma, actinic keratosis, cutaneous lymphoma, supportive treatments for oncology therapies)
-rare dermatological diseases (genetic diseases, autoimmune and autoinflammatory diseases) 
-pediatric dermatology (atopic dermatitis, hemangiomas, warts, molluscum contagiosum, and so on).
Consumer Health Care:
Our Pierre Fabre Consumer Health Care franchise is present in numerous family health care sectors. We are particularly looking for products in the following areas:
ENT: innovative on-the-go products supported by proof of efficacy studies, intended for adults and/or children, especially for sore throats, coughs, and nasal conditions. Specific needs in innovative products for infants and/or children.
Movement/joint pain: functional and analgesic treatment for arthritis and other musculoskeletal system disorders.
Natural health products: phytotherapy, aromatherapy and dietary supplements.
Oral care products: innovative products ranging from treatment of dental pathologies through to oral hygiene products.
Dermo-Cosmetics:
Pierre Fabre pioneered the development of the dermo-cosmetics concept, and today we are one of the world leaders in this market. Our portfolio includes internationally renowned brands: Eau Thermale Avène, Ducray, Klorane, A-Derma, René Furterer, Galénic, Elancyl...
Our priority is to acquire rights or collaborations for innovative active ingredients, formulation technologies, packaging, innovative electronic devices and turnkey products.
Want to go further? Contact our Business Development team
Our process for evaluating and implementing external opportunities combines proactive discussion with rigor
Image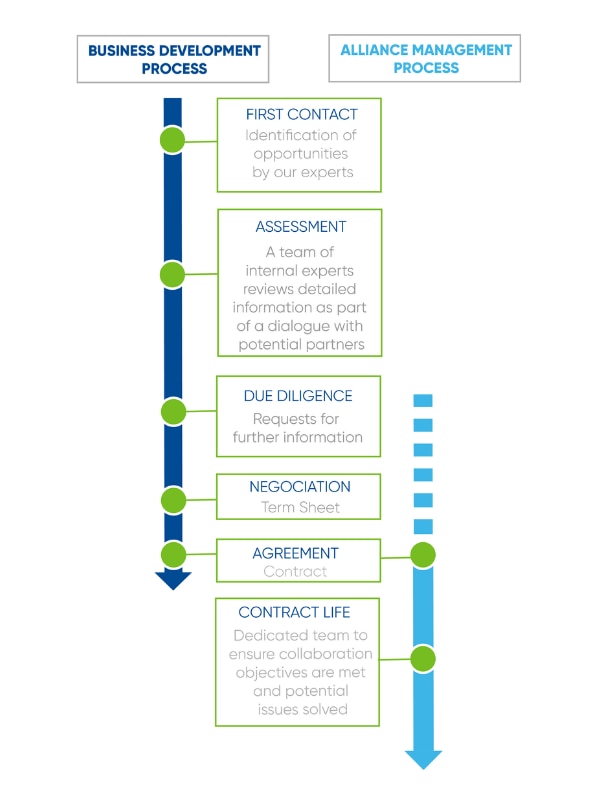 Would you like to meet us?
Find out all the events that we will be attending in the coming months.
May 7-9, 2019:

VITAFOODS (Geneva)

May 8-9, 2019:

CHINABIO (Shanghai)

May 31 - June 4, 2019: 

ASCO (Chicago)

June 3-6, 2019: 

BIO INT'L CONVENTION (

Philadelphia)

June 18-20, 2019: 

DTx (Digital Therapeutics) EUROPE (London)

June 23-24, 2019: 

WIN SYMPOSIUM (Paris)

July 3-6, 2019: 

WORLD CONGRESS ON GI CANCER (Barcelona)

September 23-25, 2019: 

ASAP - BIOPHARMA CONFERENCE (Boston)

September 11-14, 2019: 

NATURAL PRODUCTS EXPO EAST (Baltimore)

October 9-13, 2019: 

28th EADV (Madrid)

November 5-7, 2019: 

CPHI WORLDWIDE (

Frankfurt)

September 27 - October 1, 2019: 

37th ESMO (Barcelona)

October 17-18, 2019: 

COSMETIC 360 (Paris)

November 5-7, 2019: 

BIO EUROPE AUTUMN

November 14-15, 2019: 

JEFFERIES HEALTHCARE CONFERENCE (London)

November 14-15, 2019: 

ASAP EUROPEAN ALLIANCE SUMMIT (Amsterdam)

January 13-16, 2020: JP MORGAN CONFERENCE (San Francisco)