2nd AI Health Challenge organized by Pierre Fabre: A 24hr event that fulfilled all its promises!
September 13, 2018
More intense, more "techie", and more fun, the 2nd AI Health Challenge, organized on July 4 and 5, 2018 as part of the 12th e-Health Summer University, won general approval from the 30 participants in this original hackathon. These Deep Learning and AI experts came to take up the sizable challenge issued by Pierre Fabre Dermo-Cosmetics' clinical research staff: to find a new algorithmic approach to rating solar erythema in the context of skin cancer prevention. The theme of this challenge is thus perfectly in line with the group's research priorities (dermatology, cancer prevention and treatment). While AI is still in the early stages in the health sector, this subject is nonetheless identified by Pierre Fabre Laboratories as a strategic focus for the future.
Image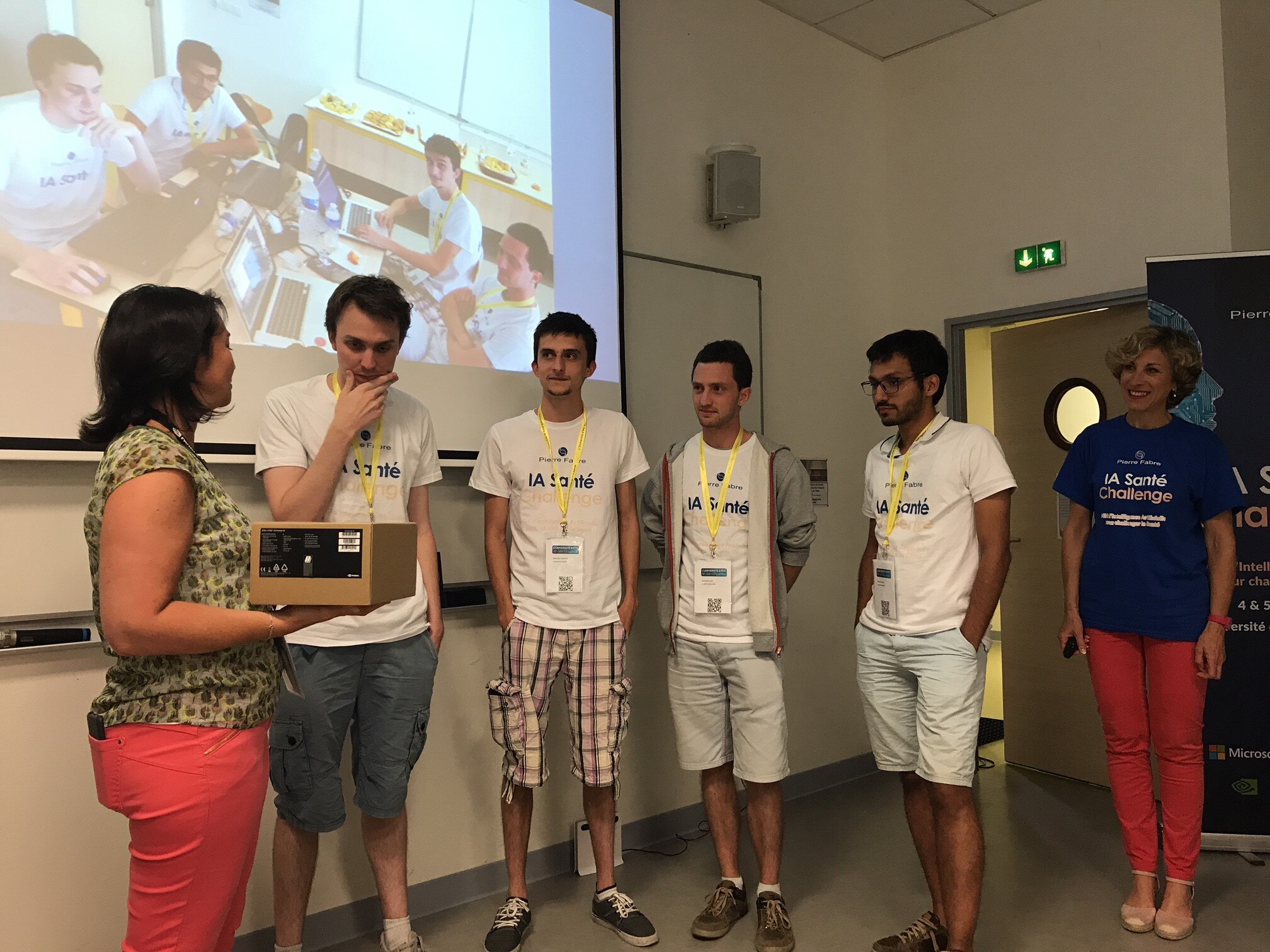 A 24hr event with 3 prizewinners
Following 24 hours of intense competition between 8 teams bringing together 30 participants in all, in the end, the start-up QuantaCell, specialized in the processing of images and data for bio-medical analysis, was declared the winner. Another start-up, UnovIT, specialized in the Internet of Things (IoT), electronics and development, came second. And in third place, a group of four students in the final year of a Masters in IT and Biostatistics at the University of Montpellier also stood out from the rest. For its second year, the Challenge attracted individuals with many talents and a variety of profiles. 
Once the environments were set up, in particular, the Microsoft Cloud Azure platform made available to the participants, equipped with the latest NVIDIA graphical processing units, each team worked on a data set corresponding to 4750 images totaling 38GB of data collected and classified especially for the Challenge by Pierre Fabre Dermo-Cosmetics' clinical research department.
The aim is to propose an algorithm that automatically determines the minimal erythema dose (MED), i.e. to provoke sunburn, from a complex image. Indeed, determining the MED is an essential step in assessing photoprotection factors, explains Gwendal Josse, Manager of the Biophysics, Biostatistics and Digital Technology team within Pierre Fabre Dermo-Cosmetics' R&D department, and the person responsible for the theme of this challenge.
Victor Racine, founder of Quantacell, and his team obtained a very respectable score at the end of the challenge's 24 hours, thus taking first place. The challenge was based on image recognition work, like the 1st AI Health Challenge, which involved detecting melanomas from dermascopic images of a beauty spot, but this was not all.
The teams carried out standardization work on the sample of images given to them to design a prediction algorithm that is as reliable as possible, said Thierry Picard, Chief Digital Officer, Pierre Fabre Pharmaceuticals. During the Challenge, AI was used with the aim of strengthening the current method for assessing MED (Minimal Erythema Dose) to determine photoprotection factors in a more reliable manner.
This challenge confirmed that rating solar erythema using image analysis was an interesting lead to follow up on.
Pierre Fabre awarded a financial grant to the 1st and 2nd place winners (€5000 for the first, €2000 for the second), as well as access to its network of experts and professionals. The third team was awarded a special prize, provided by partner NVIDIA: a Jetson TX2 development kit. In addition, as a follow-up to the hackathon, all candidates who wish to do so may join NVIDIA's accelerator program "Inception" to benefit from support with their development and accelerate their AI solution on NVIDIA's latest GPU and DL platforms.
Brainstorming, networking and a friendly atmosphere
The "hackathon" operated at full blast on the university campus in Castres. In a climate of serious, yet cheerful and stimulating discussion, the 30 participants brainstormed all together in a room dedicated to the challenge at the ISIS engineering school. Six e-health experts, data scientists and technical experts from Microsoft, Pierre Fabre, Keyrus Life Science and NVIDIA coached them throughout this marathon.
This year, we also had the presence of Jimmy Le Digabel, Research Officer in Biophysics, Biostatistics and Digital Technology from the clinical research center of Toulouse University Hospital to make a concrete connection with the proposed use case, specified Thierry Picard.

We are always surprised by the hard work, skill range and motivation of our participants over 24 hours - day and night - to successfully meet this Challenge, he continued. Profiles are very varied: students, start-ups and even medium-sized businesses. Some teams had formed prior to the hackathon, while others were formed during the hackathon. Some of them came to assess their level of experience and their agility in a spirit of competition, while others were looking to make contact with Pierre Fabre, and even looking towards future employment prospects.
The next step for Pierre Fabre will be to get its staff and the winning companies to work on a concrete research project for the benefit of health professionals and patients, based on courses of action identified at this 2nd AI Health Challenge, pending the 3rd AI Health Challenge planned for late 2018 or early 2019.
"Two strategic directions to follow up on with the clinical R&D staff from Pierre Fabre Dermo-Cosmetics."
Thierry Picard, Chief Digital Officer, Pierre Fabre Pharmaceuticals
"It is now time for internal debriefing with the various Pierre Fabre Dermo-Cosmetics departments who assigned us this solar erythema use case, to identify whether there are leads to follow up on," noted Thierry Picard, Chief Digital Officer, Pierre Fabre Pharmaceuticals. "The work carried out during these 24 hours highlighted two strategic directions for which we could become solution sponsors."
"The hackathon also proved interesting for favoring interaction between participants and Pierre Fabre staff, allowing them to come into contact with the technology." "In a few hours, the hackathon allows them to develop skills very quickly on the subject, with the opportunity to imagine new uses we could subsequently develop," he continued.
It was also of interest to Pierre Fabre to accelerate the group's digital transformation, particularly relating to data, its governance and its exploitation within the company.
"We want to be an active player in this Deep Learning and AI transformation." 
Victor Racine, founding President of QuantaCell, contract research organization (CRO) based in Bordeaux
At the end of the countdown, it was QuantaCell that won the 2nd Pierre Fabre AI Health Challenge!
More precisely, the victory went to the duo composed of Victor Racine, computer engineer with a PhD in biology, who founded the company in 2014, and his intern Damien Blanc, who had come along to train himself on Deep
Learning through image analysis. "This is the first hackathon we've participated in," said Victor Racine, who enjoyed the open spirit of the challenge, favoring collaboration between participants. "The theme was totally in line with QuantaCell's business activity, which is to conduct image analysis for life sciences. It was also an opportunity to show off our skills and raise visibility of the company," he continued.
QuantaCell, a contract research organization (CRO) based in Bordeaux, aids research teams who use imagery tools to "quantify", i.e. to have a perfect understanding of a scientific image. The company is already working on a variety of applications (oncology, dermatology and cosmetics, cellular biology, etc.) notably with the Institut Curie, Bordeaux Hospital and the University of Montpellier.
"There are a lot of uncertainties in these sorts of challenges combining image analysis and AI," said Victor Racine concerning Pierre Fabre's 2nd AI Health Challenge. "We tested about ten methods in 24 hours. We made choices that were very favorable". What he gleaned from this first intense experience was the positive effects of teamwork between people with very varied profiles and the ability to learn from the problems encountered, monitored by experts from Pierre Fabre, NVIDIA, Microsoft and Keyrus Life Science.
"We are now open to any suggestions and proposals for establishing contact and networking for our company," he concluded. "We want to be an active, determined player, committed to transformation through Deep Learning and AI, so it can benefit the scientific community as a whole, as well as the medical profession and patients."
 "Coaching by professionals also aids performance."   
Cyril Wangermez, computer engineer at CESI Bordeaux, one of the five founders of UnovIT
Three Computer and Digital engineers from Exia CESI Bordeaux, out of the five founders of UnovIT, competed in the 2nd Pierre Fabre AI Health Challenge: Cyril Wangermez, Nathan Bruzat and Thomas Dalbert.
Originally, UnovIT resulted from a student entrepreneurship project last October involving GeoVital, a bracelet "that saves lives". It is a connected bracelet linked to a dedicated application that assists responders in locating and saving populations following a natural disaster.
Since then, GeoVital has transformed into a solution for use by isolated workers in the construction and industrial sectors. GeoVital detects its users' occupational and health accidents, then notifies somebody, if appropriate. This may involve a call center confirming the notification before passing it on to responders, and/or a trusted third party designated at the time of signing up to GeoVital. Along with each notification, UnovIT can provide a detailed assessment of the health status of the accident victim, along with their geolocalization, which UnovIT prides itself on revealing only if an accident is detected.
The start-up UnovIT is in the process of being set up and specializes in IT and artificial intelligence. Always on the lookout for new challenges, there was no doubt as to UnovIT's presence at the 2nd AI Health Challenge for Cyril Wangermez. "We came to measure ourselves against the best in AI and Health, and for us, Pierre Fabre, seems to be a key player in e-health," he said. "We have acquainted ourselves with the dataset and platforms. Microsoft helped us to set up the architecture, NVIDIA advised us on GPU resources GPU and Keyrus Life Science on specialized issues." "The coaching from professionals and the staff's attentiveness to our needs, also aided each candidate's performance." "It was a studious yet fruitful atmosphere with a lot of discussion between all the participants on how to proceed," he said. What made the UnovIT team stand out and claim second place ? "A stroke of luck on the choice of method which produced results in the end, because as for skills, all the participants had them!," he concluded. UnovIT intends to remain "close to Pierre Fabre" in the future and is already preparing for the next hackathon!
 "We came out of scientific curiosity as we were interested in the development of artificial intelligence for health applications." 
 Anthony Brunel, Masters student in IT at the University of Montpellier
The third place in the 2nd AI Health Challenge did not go to a start-up, but rather a group of four students in their final year of a masters at the University of Montpellier, who were very motivated by the project proposed by Pierre Fabre Pharmaceuticals. Anthony Brunel and Nicolas Hlad, who are currently studying for a Masters in IT, and Fabien Barriau and Raphaël Romero, students on a Masters in Biostatistics, are very familiar with the university environment. And this is what they found interesting about the Challenge, at the outset.
"There are few hackathons of this type organized in a university setting," points out Anthony Brunel, who acknowledges that the choice of premises at the ISIS Engineering School on the university campus in Castres helped create a positive spirit of competition at the 2nd AI Health Challenge. 
"The experience proved very intense for the four students "leading to a lot of reassessment within the team, in a very tight timeframe." Two reasons inspired them to participate: "We came because we were interested in networking and curious to learn about the pharmaceutical industry," continued Anthony Brunel, who was satisfied by this first instructive contact with the pharmaceutical laboratory, before heading back to university to finish the last year of his masters.