Biotechnologies from health...to beauty
March 9, 2015
The ParisSchool of Biotechnology (SUP Biotech) and the CosmeticValley association got together on February 10 to organize a think-tank workshop into the new challenges facing dermo-cosmetic research and development.
 Thien Nguyen, director of the dermo-cosmetic biotechnology research unit at Pierre Fabre, presented the potential synergies to be found between pharmaceutical research and cosmetic research, giving two examples of dermo-cosmetic active ingredients produced using biotechnology.
 Biotechnologies from health...
At Pierre Fabre, we have been using biotechnologies in our medical research since the 1970s, when we launched an immunostimulant for preventing respiratory conditions in children. Buoyed with the success of this product, Mr. Fabre decided to create an R&D center dedicated to immunology and biotechnologies, which opened in 1990 in Saint-Julien-en-Genevois (France). Over the years, this center has earned a strong international reputation especially in the biotechnology of monoclonal antibodies.
 ...to beauty
The use of biotechnologies for dermo-cosmetics dates back to the 1990s with the development by Pierre Fabre of anti-aging ingredients extracted from blue-green algae for its Galénic brand. This led to the creation of a dedicated structure, combining the biotechnologies unit from the Pierre Fabre Dermo-Cosmetics R&D center in Toulouse, the combined CNRS/Pierre Fabre research unit in Banyuls, and the Water Laboratory at the site of the Avène hydrotherapy center.
 A biotechnological active ingredient extracted from Avène thermal spring water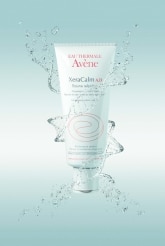 The research produced by these three laboratories was used to isolate and identify the biological signature of Avène thermal spring water: Aqua Dolomiae, a unique microflora with immunomodulatory and anti-inflammatory properties. The active substances obtained from this microflora were incorporated into a range of Eau Thermale Avène products designed for the most sensitive and driest skin, XéraCalm A.D.
 Native argan cell cultures for Galénic
At the same time, the biotechnology unit at Toulouse has developed extensive expertise in plant cell cultures, in particular to overcome the difficulties in obtaining rare, endemic, or threatened species. This technique has recently been used with argan (the fruit of the argan tree which is grown in Morocco), whose native cells have been generated and grown in bioreactors. These manufactured cells possess powerful anti-aging properties and are the main active ingredient of the new Galénic "Cell Capital" range.
With over 40 years' experience in working with biotechnologies, Pierre Fabre is imagining and developing the dermo-cosmetic care of tomorrow.
To view the movie click on this picture