Pierre Fabre is supporting "Les Bacchantes" in Toulouse for the second consecutive year: a fun run for a serious cause
9 November 2016
Organized in Paris since 2012 and Toulouse since 2015, the Bacchantes event is a "fun run for a serious cause" where mustaches and good humor are essential. The start of the 2nd Toulouse event will be at Place du Capitole on November 11, 2016 at 10:30 a.m. 
To advance research into prostate cancer
For the second consecutive year, Pierre Fabre is a partner of the event in Toulouse held to benefit research into diseases of the prostate. This partnership illustrates the Group's interest in the development of physical activity for health and also in medical research into cancer, a therapeutic priority in its research and development.
The commitment of our Group to "Bacchantes" Toulouse manifests itself on the one hand as a financial contribution and, on the other hand, as an invitation to our employees to "donate their sweat" by running the 8km course in the Pink City.
In 2015, around 20 of our employees joined the mustachioed band to support the cause. 
Image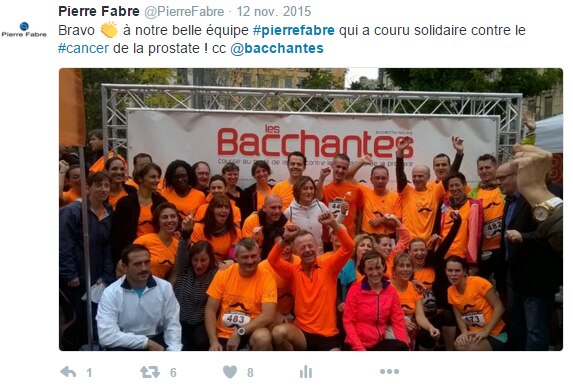 A useful and concrete commitment
For every registration, the organizing association gives 10 euros to a local stakeholder in prostate cancer research. In 2015, the project supported by the Toulouse event was focused on improving the conditions for irradiation of the prostate, with the use of an implantable balloon to limit the risk of gastrointestinal toxicity caused by the treatment. 10 patients have already benefited from this technology. For the 2016 event, the association hopes to continue financing this project.
In total, since the first race in 2012, the association has given 90,300 euros to the research.
Further information:
To book a place in the mustache race: www.lesbacchantes.org
Hashtags for the event: #LesBacchantesToulouse #courirsolidaire