Pierre Fabre Switzerland is awarded the "Sustainable Development" Trophy by the french-swiss chamber of commerce
February 23, 2016
On February 12, 2016, on the banks of Lake Geneva, in Montreux, our Switzerland subsidiary was awarded the "Sustainable Development" Trophy at the 27th Business Awards Ceremony hosted by the French-Swiss Chamber of Commerce and Industry (CCIFS).
Rewarding excellence in French-Swiss relations
Image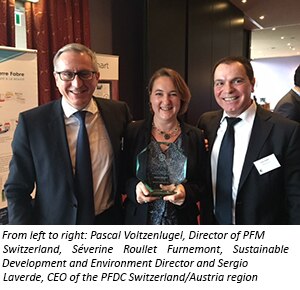 The CCIFS Trophy Awards Ceremony
is a key event for all economic players in the region who are involved in bilateral operations. Companies are rewarded for performance distinguished by the dynamism of their French–Swiss exchanges. These awards are also an opportunity "to promote French-Swiss economic relations through the example of companies achieving success in both markets" (CCIFS).
Pierre Fabre, Sustainable Development prize
Pierre Fabre's Switzerland subsidiary was awarded the "Sustainable Development" Trophy for its exemplary application of the five key focus points of the Pierre Fabre Group's CSR policy. The prize was presented to the Swiss managers of Pierre Fabre Pharmaceuticals and Pierre Fabre Dermo-Cosmetics, and to Séverine Roullet-Furnemont, the Group's sustainable development and environment manager.
Image

POS advertising eco-designs
Paperless order system
Reduction in waste
Use of alternative means of transportation
Circular economy (hot water supply to Palézieux production site (ISO 14001 since 2004) by a boiler run using grease residue produced during the manufacturing process)

Image

Local manufacturing of active ingredients used in the treatment of osteoporosis
Implementation of occupational wellness programs
Professional integration of disabled employees

Image

Implementation of codes of conduct for all employees
Local procurement development

Image

Supporting a number of public health programs and associations

"Look Good Feel Better" (helping women with cancer)
Krebsliga-Bus solaire (skin cancer screening)
SGDV (skin cancer prevention campaign)
Development of skin cancer screening tools with the smartphone Skin Tracer application

Image

Support regarding the protection of the endemic Alpine Sea Holly plant
Biodiversity conservation through the "Pro Natura" program, in collaboration with Basel Botanical Gardens
This Award, obtained in Switzerland, echoes AFNOR's recent assessment of Pierre Fabre's CSR policy as "EXEMPLARY" (AFAQ 26000 assessment).
Find out more about the Pierre Fabre AFAQ 26000 assessment