Metastatic Colorectal Cancer World Day
21 September 2022
Knowing your biomarker can make the difference. 
Ask your healthcare team to learn more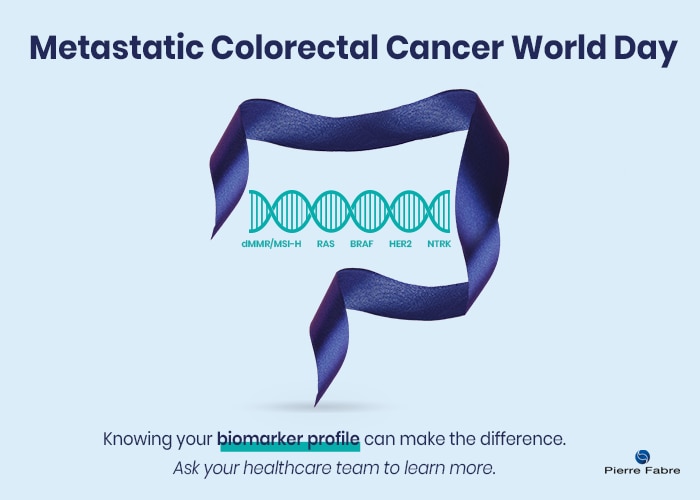 Why is it important to know CRC tumour biomarkers?
Every colorectal cancer is unique. 
Knowing its characteristics is like having the ID card of the tumour. When we look for tumour molecular characterization, it is called molecular testing.
The type of colorectal cancer influences, among other things, the following:
- Prognosis (the estimated course of the cancer)
- Treatment options available (which can vary depending on tumour type)
Biomarkers and molecular testing are becoming increasingly important. In addition to their prognostic value, some of them also have a predictive value for the effectiveness of some treatments 1.
When should metastatic colorectal cancer patients be tested for biomarker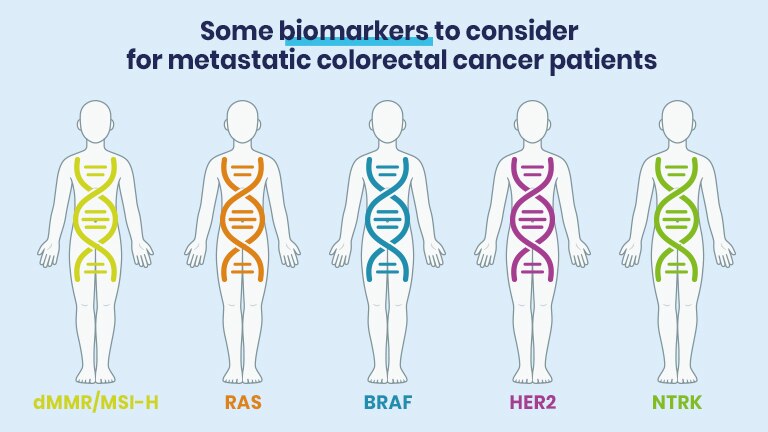 For most patients diagnosed with metastatic colorectal cancer (stage IV), biomarker testing is recommended before starting any therapy to choose the best treatment strategy. As recommended by ESMO guidelines, RAS, BRAF and MSI-H/dMMR status should be known2.
You want to learn more about biomarker testing?
Ask your healthcare team
Ask your local patient organization
You can also consult dedicated material and contents made by, with and for patients:
Globally, the prevalence of CRC is expected to rise to more than
Colorectal cancer (CRC) is the third most common cancer in the world,3 with