Day One, 2nd annual event: 35 french and international biotechs and start-ups brought together by Pierre Fabre and Cancer Bio Santé
15 June 2017
Image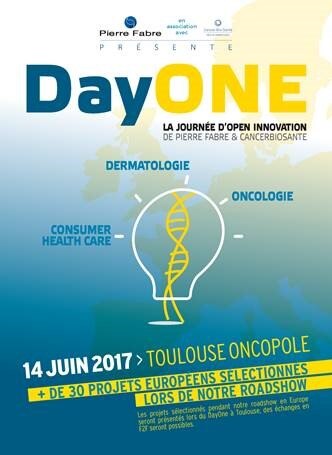 The 2nd "DAY ONE" forum was jointly organized today at the Oncopole in Toulouse by the Pierre Fabre Research Institute and the Cancer Bio Santé competitiveness cluster. It brought together over 35 French biotech companies and start-ups from Lyon, Grenoble, Marseille, Strasbourg, Lille, Paris, Montpellier and Nantes, as well as international participants (40% of them) from Bilbao, Barcelona, Geneva and Lausanne. All these "innovators", active in the fields of oncology, dermatology and consumer healthcare, were selected and invited through the partner competitiveness clusters.
Following the success of the first event (June 2016), the aim of this 2nd "DAY ONE" forum was to identify, bring out and promote innovative projects of biopharmaceutical companies, start-ups and research laboratories (public and private). The goal is to catalyze and create new collaborations whose results will benefit future patients. Following the 2016 Day One, collaborations with H-Immune and Affilogic are now underway, in line with Pierre Fabre's R&D strategy.
The participating start-ups presented their projects in the form of pitches before an extremely varied audience, such as the Pierre Fabre Group's Research and Development teams, representatives of INSERM and CNRS, members of the Toulouse Cancer Research Center (CRCT) and the Cancer University Institute of Toulouse (IUCT), as well as organizations involved in funding innovative projects.
In addition, the start-ups C2Care, i-med healthcare, Simone and Slide Speak gave demonstrations of e-health solutions. Two panel discussions were also organized: "Open Innovation, how to succeed together" with Olivier Finet (speaker and author of "Give me Five") and "Health economics: luxury or necessity to ensure the success of a drug" with Julie Frappier from the Montreal Economic Institute of Health. The day provided an opportunity for numerous discussions between all the innovators gathered for the occasion in Toulouse.
DAY ONE is an open innovation initiative that, in 2016, allowed us to forge partnerships, notably with H-Immune, to accelerate the development of new drugs in our priority research areas, foremost among which is cancerology. This year again, we came across impressive regional, national and international projects with which we will certainly consider new partnerships", said Laurent Audoly, Director of Research and Development at Pierre Fabre Pharmaceuticals.
We are deeply involved in supporting the development of the Oncopole and in making Toulouse and more broadly the Greater Occitania region a fertile ground for innovative projects in life sciences," added Liberto Yubero, Chairman of the Cancer Bio Santé Competitiveness Cluster.
Network partners of the Day One 2017 event
Alsace Biovalley, Atlanpole Biotherapies, Basque Health Cluster (Spain), Biocat Catalonia (Spain), Biopole Lausanne (Switzerland), CLARA (Canceropole Lyon Auvergne Rhone Alpes), Conectus SATT Alsace, Canton de Vaud Economic Development (Switzerland), Eurobiomed, Eclosion Foundation (Switzerland), Greater Geneva Bern area (Switzerland), Lyon Biopole, Mabdesign, Matwin, Medicen Paris, SATT - Ouest Valorisation , Cancer Bio Santé Cluster, NSL (Nutrition Health Longevity) Cluster, SATT South East.
Image