Pierre Fabre and startups CareOS and Revieve are launching a connected mirror for skin diagnosis
17 January 2020
Pierre Fabre Group, CareOS and Revieve announced the conclusion of a partnership initiated in May 2019 with the exclusive experience of a new model of connected mirror capable of customized skin diagnosis.
This unique experience is showcased to visitors to the LAB, the new concept store opened by the Pierre Fabre Group in Toulouse this past December. It offers an innovative and scientifically validated service for consumers seeking to better understand their skin and skin care products suited to their needs. In practice, the connected mirror analyzes the consumer's skin based on a photograph of their face and a series of personalized questions (age, skin care routine, expectations, etc.), then maps a number of items: acne, wrinkles, shine, redness, radiance, texture, spots, etc. This analysis is carried out in less than 5 seconds using an artificial intelligence algorithm that compares the consumer's portrait to thousands of photos. This customized experience is guided by a LAB advisor, who then recommends a personalized skin care routine.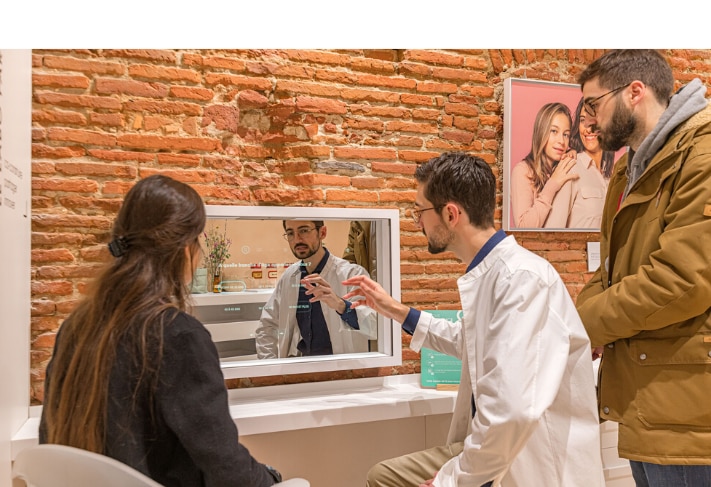 By combining the technological know-how of CareOS and Revieve with the Pierre Fabre Group's expertise in dermatology and dermo-cosmetics, we have successfully developed a flagship experience for the LAB, our new concept store in Toulouse. Pierre Fabre has always put people at the heart of its strategy and is pleased to be able to provide an innovative service for consumers through this partnership. It is a new way to gain a better understanding of our skin, to take better care of it
Géraud Menu
Digital Innovation Manager at Pierre Fabre
DSince the LAB opened, the smart mirror has become a flagship experience shared at our concept store. It allows an accurate and very visual skin diagnosis that has proved popular among consumers. It's seen as an opportunity to take a break, devote some time to yourself and enjoy a personal discussion, following which the 'experience coordinator' recommends a skin care routine that can be discovered at the 'Texture Bar'
Marie Chenal
Consumer & Retail experience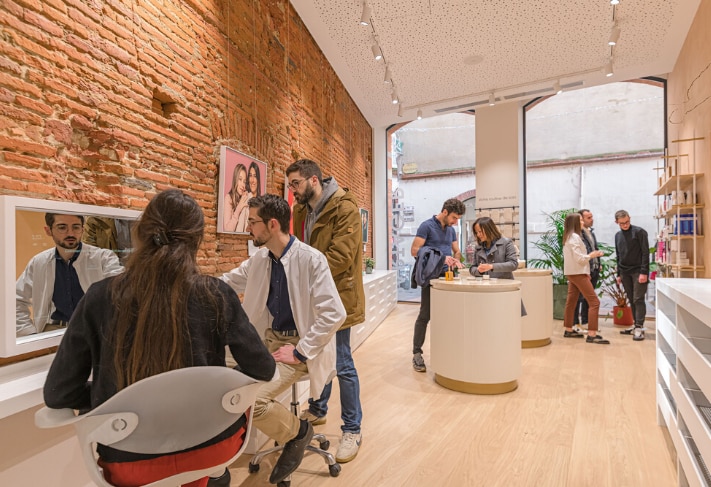 For this innovation, Pierre Fabre shared its dermatological expertise with two startups: CareOS and Revieve.
CareOS is an innovative operating system that won a CES 2019 award. Its new-generation connected mirror received another innovation award in 2020. The startup has created an experience for Pierre Fabre that integrates the skin diagnosis brick developed by Revieve. 
CareOS is pleased to reveal its first retail experience in France in collaboration with the Pierre Fabre Group, which fully shares our values and our approach to well-being. The Lab, with its strong dermo-cosmetics positioning, connects beauty and health, which is precisely what CareOS aims to do: improve the long-term well-being of all by using technological innovation to make daily routines easier.
Violaine Monmarché
Co-founder & Chief Business Officer CareOS
Pierre Fabre entrusted Revieve, a specialist in "Digital Beauty Advisor" solutions, with the development of a skin diagnosis solution based on a single image taken using the connected mirror by CareOS.
We're extremely excited to be partnering with Pierre Fabre and CareOS in producing this exciting innovation. Through working with amazing and innovative partners like Pierre Fabre and CareOS, we're ensuring that we continue to remain at the forefront of producing new, innovative solutions to beauty customers.
Sampo Parkkinen
Revieve CEO
The Pierre Fabre Group contributed its scientific expertise in dermatology and dermo-cosmetics and shared best practices with both startups to improve the point-of-sale consumer/shopper experience. To certify the skin aging diagnosis delivered by the connected mirror, the Group carried out a clinical study, and was thus able to validate the analysis of wrinkles from a scientific and dermatological perspective.