Pierre Fabre in the top 10 best employers in health and pharmacy
17 February 2016
For the second year running, the magazine Capital has ranked the 500 best employers in France. Chemicals, food-processing, distribution, automobiles... all the major sectors are covered. Pierre Fabre Laboratories ranks in 6th place in the Health and Pharmacy category.  
HR policies evaluated by 20,000 employees
In its February 2016 issue (no. 293), the magazine Capital published its annual rankings, compiled with the Statista institute, of the 500 employers in France most appreciated by their staff and by those who work in the same sector. 20,000 employees working for 2,100 groups anonymously assessed the Human Resources policies of their employers and their competitors (companies with over 500 employees): wage policy, working conditions, gender equality, etc.
The two main assessment criteria were the propensity of workers to recommend to friends and family:
Their employer

Another company in the same sector of activity
Image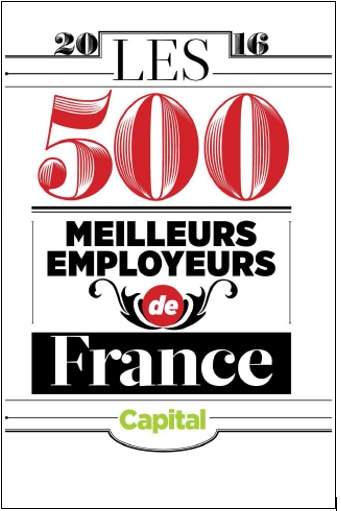 Pierre Fabre in 6th place in the Health/Pharmacy sector
Players in the health/pharmacy sector are in the enviable position of being recognized for their ability to "look after their teams" (Extract from the 2016 rankings of the best employers in France compiled by Capital and the Statista institute, February 2016),
despite a context where recruitment is down.

Pierre Fabre Laboratories was ranked in 6th position out of 22 employers assessed. 
We can be proud of this position in the ranking which rewards both our Human Resources Policy, inspired by our ambition to serve health and well-being and our desire to "provide meaning to your work", to everyone, every day.
You can find all the job offers and internships on our recruitment page.

Capital magazine cover of the folder