Pierre Fabre publishes its first integrated report
21 July 2020
Today, Pierre Fabre published its first integrated annual report: a comprehensive overview of the value created by the Group for all of its stakeholders.
For the first time this year, in line with its pledge to boost transparency with regard to its stakeholders, the Pierre Fabre Group has opted to share its data for 2019 in a new-look annual report: The Integrated Report.
Image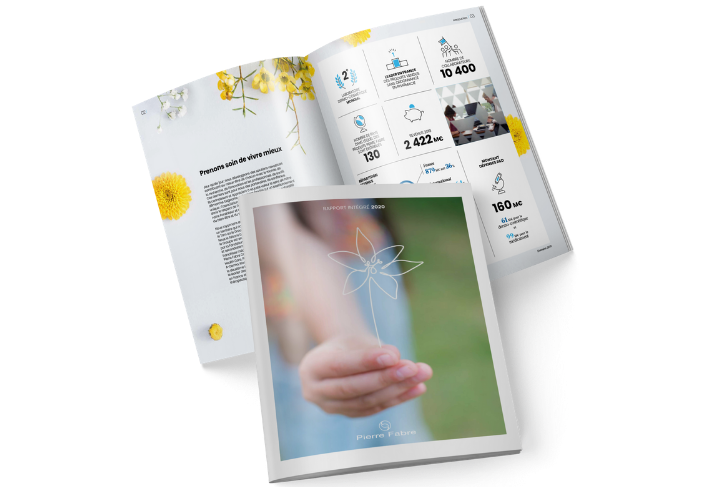 The content of integrated reports is defined by the IIRC (International Integrated Reporting Council). It is intended to develop a new standard of concise reporting that combines financial and extra-financial data. 
The ultimate objective of an integrated report is to provide clearer information about the Group's value creation in the short, medium and long term, or in other words, about the company's ability to adopt a more sustainable model.
By choosing this format, Pierre Fabre underscores the sustainable alignment of its own interests with those of its stakeholders—alignment that derives from the humanistic approach to care which the Group developed from the outset and which is formally set out in the Group's Purpose. 
The document itself was designed with input from several representatives of the Group's stakeholders, who were founding members of its editorial committee from the very beginning: Marie-Ange Léophonte (Ligue contre le Cancer de Haute-Garonne) and Anne Auduze (Association Ichtyose France) representing patient associations, Evelyne Haber (Ligue de Protection des Oiseaux du Tarn) on behalf of environmental organizations, and Dominique Vaissières (Pharmacie de la Tour in Castelginest), representing health care professionals. 
The result is a 48-page summary, which gives pride of place to the Group's stakeholders and provides an insight into (or a recap of) the Group through four lines of thought: 
Its original governance guided by the public interest
Its unique positioning based on a resolutely Humanistic Purpose
Its strategy for the future, translated into a transformation plan based strongly on reinforced synergies and input from its stakeholders
Its determination to create value for its patients, consumers, health care professionals, employees and regions
 
The drafting of the integrated report provided a fantastic opportunity to discuss issues and promote the cross-fertilization of ideas: links are being set up between the various areas of expertise and business lines. This report was produced in close collaboration with representatives from our stakeholders. Their involvement from beginning to end of the project underlines their sincere attachment to the group.
Eric Ducournau 
CEO of the Pierre Fabre Group