The Pierre Fabre group is recruiting nearly 300 interns in 2019
17 October 2018
From October 2018 to February 2019, the Pierre Fabre Group is conducting a recruitment campaign to attract nearly 300 interns in all business areas, from health to beauty. If you are seeking work experience that is true to your nature and your professional aspirations, we should meet!

The Pierre Fabre Group, the second largest dermo-cosmetics laboratory worldwide and the second largest private pharmaceutical group in France, is now launching a recruitment campaign to attract nearly 300 interns, with an educational level from a high-school diploma to a Master's degree, in all of its business areas: Research and Development, Manufacturing, Logistics, Human Resources, Marketing, International Development, Communication, Finance, etc., all of which fall under the company's three complementary activities: Pharmaceuticals, Health Care (family health care) and Dermo-Cosmetics.
An internship is a key experience for students, laying the groundwork for their career. At Pierre Fabre, internships offer assignments that enable students to receive training from experts who are recognized in their respective fields.
Pierre Fabre commits to training students
The Pierre Fabre Group aims to attract nearly 300 talented individuals who fit in with the group's values. To achieve this, the Group offers assignments where lessons learned can be put into practice in a high-quality professional environment, alongside motivated and committed teams. 

The internship policy provides for an attractive package: a bonus, access to the company cafeteria and Works Council.
The internships on offer at Pierre Fabre benefit from an agreement signed with the training establishment or organization (universities, schools, higher education establishments, etc.) and meet a specific educational objective. Each intern is mentored by an expert in their field. 

In 2017, the Group welcomed 296 interns, with an educational level ranging from a high-school diploma to a Master's degree, who are now able to put this experience to good use in their professional lives.
Pierre Fabre works closely with its academic partners
Fully aware that the future of the Group begins on the campuses of schools and universities, the company is always seeking to develop a close relationship with the academic world. We also work with Engineering and Business Schools throughout the world, as well as with Science and Health Universities. Ever faithful to its roots, the company also forms close ties with local establishments and actively contributes to the vitality of the region.
Throughout the year, the Pierre Fabre Group reaches out to its target schools, which train students for the Group's main business areas. This policy establishes the company as a true partner of the educational system and an active source of support in developing the employability of students in France and abroad.
Work for Pierre Fabre, be true to your nature
If you are committed to ethical values and corporate social responsibility, if you want to work for the health and well-being of others, and if you enjoy a stimulating environment based on innovation, join our teams and be a part of the Group's mission: caring for the human being as a whole!
Image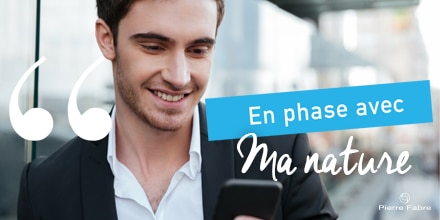 Pierre Fabre recruitment process

Internship periods
Pierre Fabre internship offers are posted on the website from October 2018 until the end of February 2019.
The 2019 internships begin in January 2019