Today, Pierre Fabre took part in the first International Biotechnology Meeting
July 1, 2015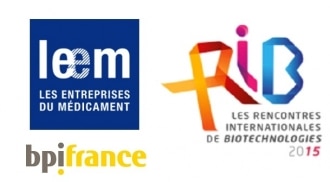 The first International Biotechnology Meeting (RIB - Rencontres Internationales de Biotechnologies) dedicated to rare diseases took place today at the Bpifrance Hub. It was led by the French pharmaceutical companies association, LEEM, and the French company funding and development body, Bpifrance. This meeting was an opportunity for biotechnology startups and large pharmaceutical groups to meet and encourage faster creation of partnerships between players in the innovation chain. In the morning, pitch sessions were held to introduce the 16 selected companies. Then 85 B2B meetings took place in the afternoon, between biotech and pharmaceutical companies.
Therapeutic innovation depends on partnerships and new drugs and treatments result from collaboration between biotech and industrial players. 88% of biotech companies are VSEs or SMEs and half of them have invested in the therapeutic field.
France is a breeding ground for innovation, providing a fertile environment for biotech companies. The 457 biotech health care companies identified by the second LEEM study are very promising for this growing ecosystem.
Today, identifying, supporting and helping these companies to grow is a major challenge. Their critical mass needs to be developed if they are to be included in the innovation chain. To help with this scale-up, LEEM and Bpifrance relied upon the French health care ecosystem, the Parisian public health care system (AP-HP), clusters, Inserm Transfert, Genopole, incubators, etc. to identify companies working on rare diseases - the theme of this first International Biotechnology Meeting.
15 applications were selected out of 30, including 5 from the Eurobiomed competitiveness cluster and 8 from Inserm research. In total, 16 biotechnology companies (the 15 selected and Généthon) and 16 large pharmaceutical groups took part in RIB 2015.
The selected
biotech companies

The pharmaceutical companies

AAVLife, Advicenne, AlizePharma, Anagenesis, Genethon, Hemarina, Horama, Inflectis Biosciences, Lysogène, Metafora Biosystems, Neuradis, Neurochlore, Neuronax, ProGeLife, Sensorion, Therachon
Actelion, Amgen, Bayer, BMS, Clevexel, Genzyme, GSK, Ipsen, Janssen, Lilly, Merck, Pierre Fabre, Pfizer, Roche, Sanofi, Shire.
This first International Biotechnology Meeting demonstrated the advantage of combining two kinds of know-how: expertise from pharmaceutical companies in Research & Development and expertise from Bpifrance in providing support and assistance to French companies, helping them to become global players.
According to Philippe Lamoureux, LEEM General Manager: Organizing RIB 2015 shows industrial players' desire to speed up development and their commitment to adding value to French assets.
For Nicolas Dufourcq, General Manager of Bpifrance: The International Biotechnology Meeting is fully in line with the missions of Bpifrance Hub: encouraging exchanges by removing the barriers between startups and large groups, to create key partnerships and introduce budding companies in the French biotech sector to the global arena.