Pierre Fabre Foundation: a new website and publication of annual report
October 20, 2014
The Pierre Fabre Foundation invites you to visit its new website, designed to allow you to quickly catch up on all of the Foundation's programs and activities, understand their challenges and initiatives, discover their resources and partners, and follow the players on the ground.
http://fondationpierrefabre.org/en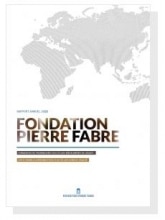 On the website you can find the 2013 Annual Report. This report details 13 initiatives for improving access to care and medicines commonly used among the poorest populations. Country by country, a summary of ongoing initiatives is presented, along with the many players involved in the training of pharmacists and in the fight against sickle cell disease. A downloadable version in French and English is available on the Foundation's website (in the Publications section).
https://www.fondationpierrefabre.org/en/publications/