The Klorane Institute shares its passion for botanicals to celebrate Singapore's golden jubilee
June 5, 2015
To mark the fiftieth anniversary of the city-state's independence and as part of the French Embassy's Voilah! Festival, the Klorane Institute and Pierre Fabre Dermo-Cosmetics Singapore organized the "Herbarium on Stage" event from May 25 to 29.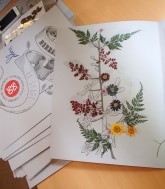 Children were invited to participate in a learning journey that was created in partnership with the Singapore Botanic Gardens. This was a fun way to restore botanical passion to the heart of societal concerns and raise young people's awareness about plant issues.
The learning journey was built around 3 workshops:
"Herbarium on Stage" workshops where classic and contemporary herbariums were created in the library of the Botanic Gardens
A guided tour of the local herbarium with experts from the Botanic Gardens and an introduction to the park's special plant specimens
An exhibition entitled "World of Flowers" was held in the CDL Green Gallery, a zero-energy building designed for botanical exhibitions.
Over 1,000 children between the ages of 5 and 10 took part in the activities with enthusiasm. Bolstered by the success of this event, the Botanic Gardens hope to continue the event in the years to come and explore other opportunities for collaboration.