A-Derma opts for local carbon offsetting
December 5, 2014
Firmly established in South-West France, A-Derma has chosen to offset its greenhouse gas emissions with the "Carbone Local" scheme. Our company is one of the first to join this new carbon offsetting program that fosters local roots.
Carbone Local is a local carbon offsetting scheme that proposes offsetting greenhouse gases, which cannot be avoided or reduced, by planting hedgerows. Developed by the ARPE Midi-Pyrénées (regional sustainable development agency) and certified by the environmental body Ecocert, it enables the quantity of C02 offset by tree or hedgerow planting to be ascertained and certified. The scheme was launched a year ago and was made official on October 28 during a round-table at the French Senate.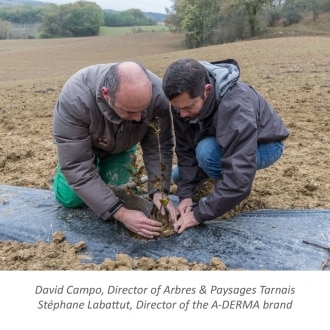 Yesterday, A-Derma planted 1 km of hedgerows at Terre d'Avoine (farming site for Rhealba Oat® in Puylaurens in the Tarn area). The equivalent of 120 tonnes of CO2 will be offset progressively, representing the annual emissions associated with the manufacturing and marketing of the Exomega range in France.
In addition to carbon offsetting these hedgerows will help fight against soil erosion, improve water quality and enrich the biodiversity of the Terre d'Avoine site. More than a dozen local species were selected by the Arbres & Paysages Tarnais association in partnership with experts from Pierre Fabre Agronomie.
The organic farming of Rhealba Oat®, the 100% local production ecosystem and now participation in the Carbone Local program demonstrate the strong commitment that A-Derma and the Pierre Fabre Group have to their CSR approach.