A new signature slogan unveiled for our DUCRAY brand
27 September 2017
DUCRAY, the iconic brand that has delivered useful innovations in dermatology for over 85 years, is unveiling, in 2017, its new brand communication using the signature slogan "Daily life-changing care" developed by the agency Very Good Choice. The brand already revealed its new look this summer with a new logo and redesigned packaging. 
DUCRAY, daily life-changing care
The new communication supports the ambitions of a brand born in the early 1930s and centers around a strong claim: "DUCRAY, daily life-changing care." It consists of several tools: a corporate video, product communication and a campaign targeting health professionals, all produced in 2017 and most of which are already available. For the moment, it is deployed in 15 countries, including France. 
A useful brand since its creation
The new communication includes eight key visuals that systematically include characters who are happy in their everyday routines and who live life to the full because they are liberated from any dermatological disorders. Like a jingle, this phrase accompanies each short scene: "If the only thing that matters for you today is to live your life to the full, then we have been useful" - a reminder of the mission of Ducray dermatological laboratories.
The new "Daily life-changing care" campaign plays up the image of a useful and discreet brand, a highly effective ally. DUCRAY is thus doing the unexpected by steering away from the traditional advertising style in dermo-cosmetics: the product leaves center stage to patients and consumers who are living their lives, liberated from a dermatological disorder that was resolved using DUCRAY products. The brand chose to show the end result and the relief it brings. The message conveyed is joyful, lively and full of hope for anybody affected by a dermatological problem, physically or psychologically. 
Image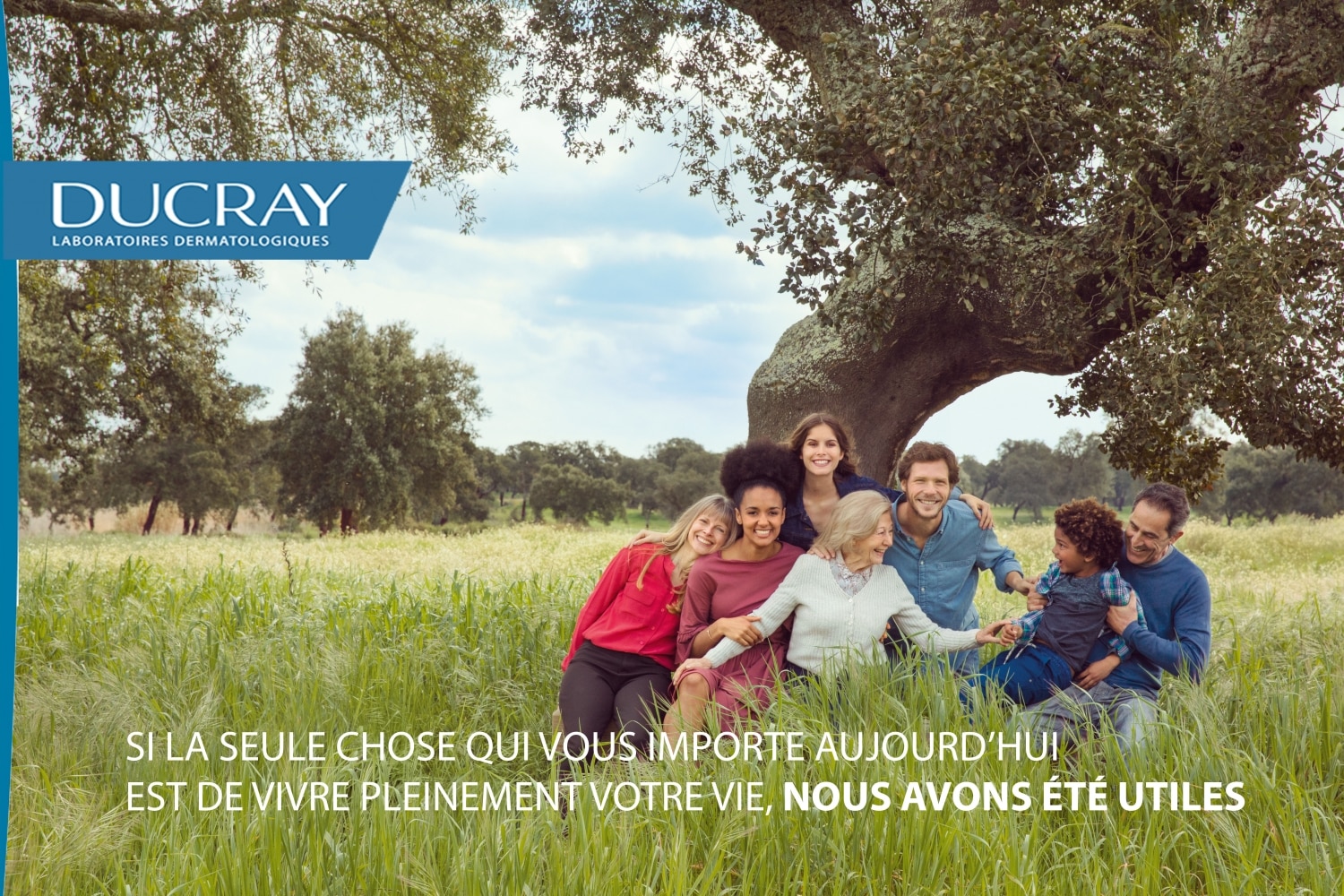 85 years after the brand was created by Albert Ducray, the son of a dermatologist, DUCRAY is asserting its hallmark - useful innovation - and an image built on its reliability, dermatological effectiveness and medical credibility. In this way, it asserts values associated with the Pierre Fabre group: pharmaceutical rigor, quality and a capacity for innovation.
Multi-channel brand communication
The campaign includes DUCRAY's entire digital strategy and will soon be disseminated on its website and on social media. A video game on the brand's Facebook account and a saga will unveil the campaign's visuals as of Tuesday, September 26.
DUCRAY is one of the Pierre Fabre group's dermo-cosmetic brands. It was acquired by Mr. Pierre Fabre in 1969, when it was known as "Dr. Ducray's soaps and shampoos". Since then, the brand has been behind several success stories like Extra-Gentle in 1977, which just celebrated its 40th anniversary, and Ictyane cream in 1985.