A tribute to Mr. Pierre Fabre
July 22, 2014
Pierre Fabre, founder and president of the eponymous Laboratories, passed away on July 20th, 2013. He left behind an exceptional legacy, which it is now up to the 10,000 employees of the Group to continue to nurture in accordance with his entrepreneurial, humanist and civic values.
On the occasion of this first anniversary, various commemorations are being held: on Friday, July 18th in Castres, the birthplace of Pierre Fabre, to which he remained faithful throughout his life, and on Monday, July 21st, at all sites and subsidiaries of the company.
Friday July 18th
A first commemoration is being held at the headquarters of the Pierre Fabre Foundation in the presence of family and friends of Mr. Pierre Fabre, as well as the directors of the Group's governing bodies and employees representing their 10,000 colleagues. During the ceremony, two works of art in memory of Pierre Fabre were unveiled in the presence of the artists, the Franco-Chinese painter Yan Pei Ming, and the German sculptor Stephan Balkenhol.
This commemoration is followed by a public ceremony at 6 p.m. in the municipality of Castres, in the square which now bears the name of Pierre Fabre, in the presence of regional authorities. On this occasion, Mr. Pascal Bugis, mayor of Castres, Ms. Josiane Chevalier, prefect of the Tarn, and Mr. Pierre-Yves Revol, President of the Pierre Fabre Foundation and Pierre Fabre Participations, paid tribute to the memory of Mr. Pierre Fabre.
Monday July 21st
A solemn tribute will be paid by the 10,000 employees of the Group during a moment of silence observed at all sites and at all international subsidiaries. In France, this moment of silence will take place at 11:00 a.m. At each site and at the 44 subsidiaries, it will be followed by the showing of a film about the commemoration on July 18th, presenting the works of Yan Pei Ming and Stephan Balkenhol.
Mr. Pierre Fabre by Yan Pei-Ming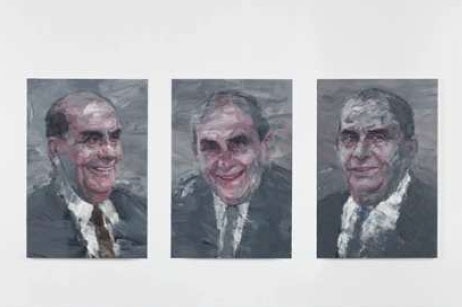 Mr. Pierre Fabre by Stephan Balkenhol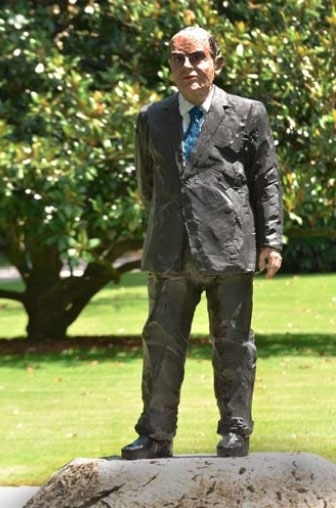 Photographie : Laboratoires Pierre Fabre – Damien Cabrol
© Stephan Balkenhol, ADAGP, Paris, 2014