French president Francois Hollande inaugurates the new Pierre Fabre Dermo-Cosmetics Production site in Tarn
May 30, 2013
François Hollande, President of France, was in attendance this morning to inaugurate the new Pierre Fabre Dermo-Cosmetics production site located in Soual, in the French department of Tarn.
Built in close proximity to the original Pierre Fabre Laboratories plant, this new site will enable the Pierre Fabre Group to keep pace with the international growth of its dermo-cosmetic care products, which include brands such as Avène, Klorane, Ducray, René Furterer, A-Derma, Galénic and Elancyl.
At the end of a one-on-one interview with Mr. Pierre Fabre, the French President, joined by Mr. Michel Sapin, the Minister of Labor, toured the new manufacturing and packaging facilities where he met with operators present on the production lines. The French President then proceeded with the official inauguration ceremony, which was attended by more than 700 guests, including all the employees on site. 
In his speech, the French President paid tribute to Mr. Pierre Fabre and his company, which in the span of 50 years, has grown into a Group of 10,000 employees, posted revenue of €2 billion and expanded its healthcare and dermo-cosmetic products worldwide.
Pierre Fabre is an individual who through his talent and creativity knew how to invent, develop and manufacture products. He was ahead of his time but has always been loyal to his roots, his city, his region. Moreover, President François Hollande highlighted the exemplary nature of the Group, whose primary shareholder has been the Pierre Fabre Foundation, a registered non-profit-making organization, since 2006. Pierre Fabre had the intelligence, foresight and sense of solidarity to preserve the company's capital in this Foundation for public utility. The President concluded his visit by reflecting on the reasons, in his opinion, for the Group's success. investment, innovation, research, social dialogue, involvement and training, which explains why Pierre Fabre [is] one of the finest emblems of a French business success story.
The development of the Pierre Fabre Dermo-Cosmetics site in Soual, which employs 575 people, is one of the leading French industrial projects in the last few years and required an investment of €50 million spread over three years (2011-2013). Between 2012 and 2014, 75 new jobs will be created at the site within the framework of this project. Thanks to this development, the Soual plant is now equipped to produce sterile cosmetic products. This new generation of cosmetic care offers preservative-free products that are guaranteed 100% sterile throughout their use by means of a patented packaging system and a one-of-a-kind manufacturing process, in accordance with pharmaceutical industry standards.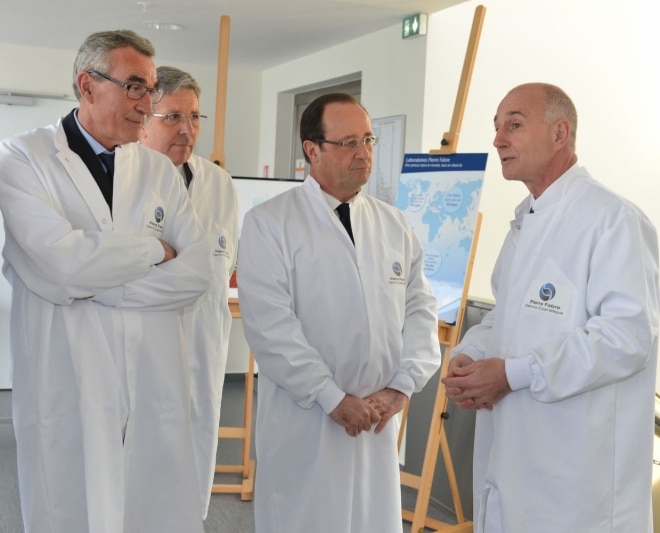 From left to right : Mr Pierre-Yves Revol, Vice Chairman of the Board, Mr Jacques Farrenq, Pierre Fabre Dermo-Cosmétique's industrial manager, Mr François Hollande, Predident of France and Mr Didier Miraton, Group CEO.