LEEM recognizes Pierre Fabre Laboratories for the biomass boiler at our dermo-cosmetics plant in Soual, France
1 April 2015
Yesterday we were awarded the CSR trophy from the French pharmaceutical companies association LEEM in the "Environment" category for our pioneering process that uses spent medicinal plants as a source of energy. This Trophy recognizes the biomass boiler we have installed at the main industrial site of Pierre Fabre Dermo-Cosmetics (Eau Thermale Avène, Klorane, Ducray, A-Derma, Galénic, René Furterer, etc.). This is a pioneering industrial project in terms of green energy and the circular economy.
A First for industry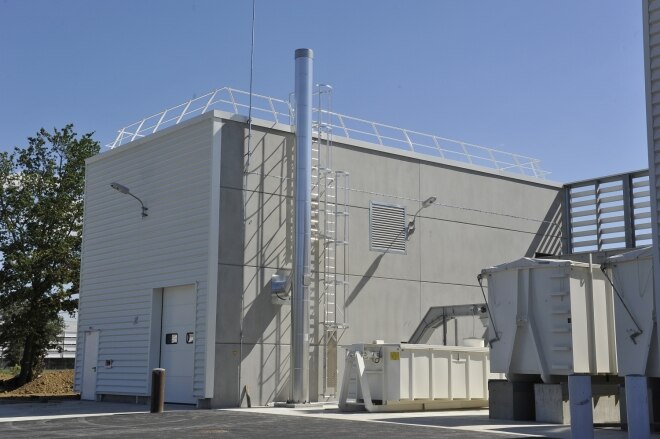 The project started in June 2011, driven by Mr. Pierre Fabre, who always endeavored to use innovative solutions to preserve our natural heritage and reduce our impact on the environment. When building the expansion for the Soual plant based on an experimental HQE approach - the first of its kind for an industrial building - Mr. Pierre Fabre wanted to explore the possibility of installing a biomass boiler, in order to use plant residue to provide hot water and heating for the building.
This cross-cutting project called upon expertise from various areas of the company (Active Plant Ingredients, Chemistry, Production, Engineering and Sustainable Development departments). Using spent medicinal plants to supply a biomass boiler on an industrial level is a first for France.
Only one boiler manufacturer remains in France, therefore not much expertise is available, and this was the first time medicinal plants had been used in a biomass boiler. This involved a lot of work, both on a technical and a regulatory level, explained Séverine Roullet-Furnemon, the Group's director of sustainable development.
The boiler was produced in 2012, the first tests were performed in 2013, and in 2015, the boiler was granted final approval for use by the French Ministry for the Environment and the TarnPrefecture.
Making use of plant residue, short route and energy savings: three exemplary commitments
Making use of plant residue: the spent plants used in the boiler are residue from the Tropical periwinkle and the Serenoa Repens, which we use to extract the active ingredients for our medicines, and from the Rhealba Oat (Avena sativa rhealba) used by the A-Derma brand. More than 1,000 tons of spent plant will be used in this way every year, starting next winter.
Short route and circular economy: the active ingredients are extracted at our plant in Gaillac (in the Tarn department). The spent plants are then recovered for use in the boiler in Soual (Tarn), less than 50 km from Gaillac. Woodchips are added to the boiler to help in the combustion process. They also come from Tarn (logging industry waste). Moreover, the boiler was produced by the last French manufacturer of industrial biomass boilers.
Energy savings: by burning a mix of spent plants and woodchips, the plant's gas consumption has been cut by 60% and its carbon footprint reduced by 1,600 tons of CO2 a year.

Unanimous decision to reward the project
The goal of the 1st LEEM CSR Trophies event was to promote CSR measures at pharmaceutical companies and to reward the most exemplary projects (ongoing or completed) in France, launched as of January 1, 2013. This project received a unanimous vote from a jury of experts for its innovative approach to using renewable energy from plant sources, reducing greenhouse gas emissions and promoting circular economy principles.         
After winning the Trophy, Bertrand Parmentier, Chief Executive Office of Pierre Fabre Laboratories, announced, "We are honored to receive this award. Our whole approach to CSR has been recognized through this biomass boiler that runs on plant residue." He added, "This innovative circular economy project is very dear to us, especially as it was directly spearheaded by the company founder, Mr. Pierre Fabre. Mr. Pierre Fabre was a pioneer of sustainable development. In five decades, he was able to make his company a world leader in the production and use of natural active ingredients in pharmaceutical and dermo-cosmetic products, without sacrificing biodiversity, which was a priority for him. Today, we dedicate this Trophy to him, as it rewards a project that is emblematic of his approach, and of the deep roots the company has in the Tarn."