Pierre Fabre committed to a campaign against malnutrition in Madagascar: 2016 results
8 February 2017
The Ministry of Health and National Nutrition Office (ONN) in Madagascar have launched a national operation to combat malnutrition. This action is crucial, since 80% of Malagasy children using the school cafeteria have only one meal a day.
In 2015, Pierre Fabre's subsidiary in Madagascar decided to join this operation by helping a primary school with 600 pupils in Amboassary Gara, in the Moramanga district, the harvest zone for Centella asiatica leaves. In 2016, this project was extended to a second school, located in Ambohidray, allowing more than 710 pupils to be reached, in total.
The following actions have been carried out:
setting up a canteen,
hygiene classes,
distributing meals during the bridging period*,
planting a school garden with food crops,
distributing kidney bean seeds to parents to supply to the canteen.
Through these operations, the following results were achieved during the year 2016:
Deworming of more than 700 pupils
Setting up of 2 cafeterias and kitchens with the help of the pupils' parents
Production of over 150kg of vegetables on 2,500m² of school gardens, by the pupils' parents
Considerable increase in the measured weights of 54% of pupils
Improvement in school performance compared to 2015: higher attendance at school, absence of dropouts, and improvement in pupils' concentration in class.
In the light of these results, Pierre Fabre is committed to continuing this program in 2017.
To ensure its funding, Pierre Fabre's subsidiary in Madagascar gives the ONN 5% of profits from sales of Centella asiatica, a plant harvested near the two schools that benefit from this program. More than 70% of the parents of these schoolchildren are gatherers of Centella asiatica. This program is a real example of insetting**.
Pierre Fabre's Madagascan subsidiary is recognized as a Responsible Company with the "Excellence" rating according to Ecocert's CSR standard.
Image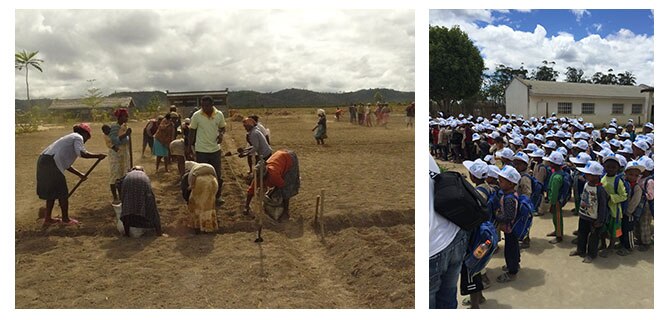 * Period preceding the first harvests during which the grain from the previous harvest may be in short supply. 
** For a business, this involves integrating the regeneration and preservation of the ecosystem on which it depends to compensate its socio-environmental footprint (carbon, water, biodiversity, working conditions, fair prices, etc.).