Pierre Fabre Oral Care, partner of the "J'agis pour ma santé!" initiative for promoting good oral hygiene in schools
21 July 2017
Educating youngsters about health is a major challenge for public health. To address this, the City and Metropolitan Area of Montpellier in France have teamed up with Pierre Fabre Oral Care to design an experimental prevention campaign aimed at schoolchildren entitled "J'agis pour ma santé!" [I'm doing it for my health!]. Pierre Fabre Oral Care is supporting this campaign by providing 1,300 child-suitable dental kits (toothbrush and toothpaste) to kids from 9 elementary schools.
Image

Oral hygiene and education: a public health issue
Oral health is the third priority action area identified by the WHO. 
In terms of oral health, the advice on prevention and health focuses primarily on learning good personal hygiene habits in order to prevent cavities and gum disease. These good habits can be instilled at a very young age, with the help of parents, and can then be maintained and adapted as we grow older and our health needs change.  (Source UFSBD - French Union for Oral Health)
Parents, and the educational environment in general, can play a key role in helping children learn good oral hygiene habits, such as choosing the right types of food, eating a balanced diet, encouragement and help with brushing teeth, as well as regular check-ups with a dentist.
Oral health education: a major issue for Pierre Fabre Oral Care
The only global independent pharmaceutical laboratory to focus on oral health, Pierre Fabre Oral Care is also an influential public health partner that regularly contributes to information and prevention campaigns with health professionals and the general public, and fosters partnerships with renowned organizations such as the UFSBD (French Union for Oral Health).
The Group focuses on education and raising public awareness of the importance of good oral health and the need for regular visits to the dentist. It achieves this by providing teachers with interactive tools and kits to help children learn the basics of good oral health whilst having fun.
As part of this mission, Pierre Fabre Oral Care has decided to lend its support to the "J'agis pour ma santé!" initiative by providing 1,300 child-suitable dental kits (toothbrush and toothpaste). 
"J'agis pour ma santé!": 4 months to reach 1,150 children  
From February 27 to the end of June 2017, around 1,150 children from first to fourth grade were invited to take part in the program during school mealtimes and extracurricular activities.
The aim is to convey a suitable and easy-to-understand message to raise awareness among kids and their parents, focusing on nutritional education, oral hygiene, and physical exercise in order to help them take control of their own health.
The awareness activities range from meetings and educational discussions between the kids, their parents, and health professionals, to everyday tips and tricks.
Image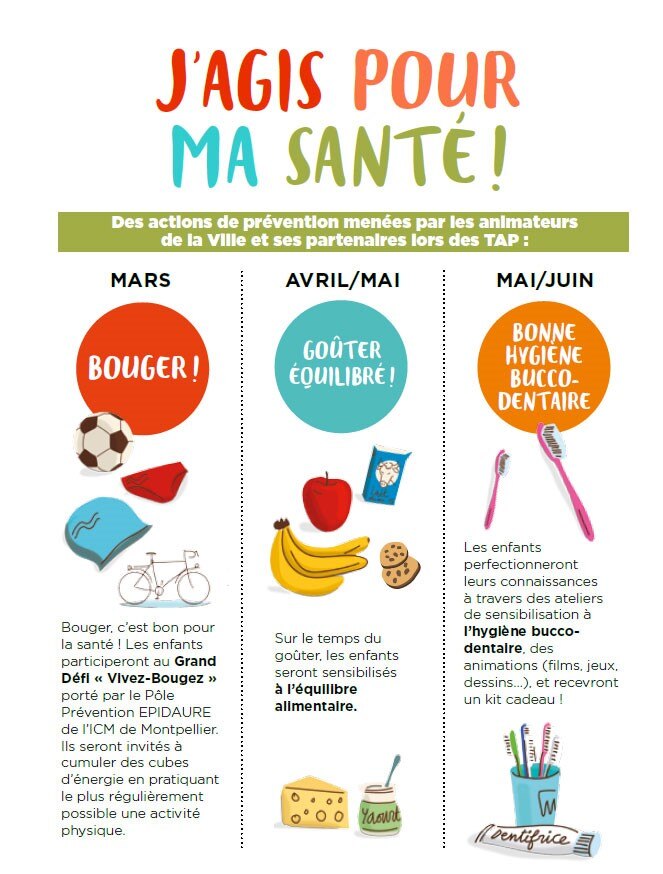 The partners of "J'agis pour ma santé!"
"J'agis pour ma santé!" is an initiative run by the City and Metropolitan Area of Montpellier in France, bringing together several partners including:
The Herault CPAM (Health Insurance Office)
Find out more about the "J'agis pour ma santé!" initiative