The first harvest and distillation of helichrysum on our very own land in the Tarn
June 23, 2015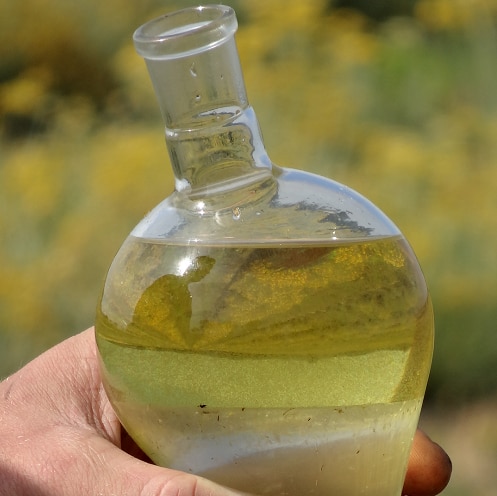 Last week we completed the first harvest and distillation of our very own Helichrysum Italicum plants in Lavaur in the Tarn, just a few kilometers from the home of Mr. Pierre Fabre.
Helichrysum (or Immortelle) essential oil is much sought after due to its exceptional properties. However, the plant contains very little essential oil: three kilos of fresh flowers have to be distilled to fill a 5 ml bottle. How can the demand for the oil be satisfied without putting the species at risk?
In 2014 the Agronomics Research Department set up a crop experiment plot in Gaillac with 200 plants from 3 seed sources in order to select plants and define the optimal growth conditions for the Tarn. Seven hectares were then cultivated in Lavaur by Pierre Fabre Agronomy.
 
For this initial industrial production trial, we selected a well-exposed plot close to Lavaur in the Midi-Toulouse area to study several varieties and cultivation techniques. The seeds acquired from the National Conservatory in Milly-La-Forêt were entrusted to an organic nursery. Over 130,000 seedlings were cultivated, explained Alexandre Panel from Pierre Fabre Agronomy.
In spite of a particularly wet winter in the Tarn, the crop thrived. It is thus with great pride that we brought in the first harvest this week. We called upon a specialized service provider in the field of organic essential oil to carry out the distillation. Thanks to a mobile still capable of processing 300 kg of fresh plants in two hours, the work was completed in a week.
The week of harvesting and distilling marks the achievement of an ambitious project which is fully in line with our Botanical Expertise Pierre Fabre approach: acclimatizing helichrysum in the Tarn and producing an essential oil of a similar quality to that made from plants grown in Corsica. We are optimistic about next year's harvest and its quality, which will represent the complete production potential of the plot. Until next year!