Triple Ecocert Certification for our Madagascan subsidiary
November 27, 2014
Following the application of the Group's CSR (Corporate Social Responsibility) policy, our subsidiary in Madagascar has followed a voluntary assessment process by Ecocert and obtained certification in three areas: organic farming, reforestation and solidarity, and Ecocert responsible (ESR).
Our Madagascan subsidiary, SEAR (Société d'Exploitation Agricole de Ranopiso - Ranopiso Farming Company) is responsible for the cultivation and supply of medicinal plants. It provides periwinkle leaves for the manufacture of our anti-cancer drugs Navelbine and Javlor.
In October it embarked upon a voluntary assessment process by Ecocert (international inspection and certification agency for agriculture and organic foods). This assessment highlighted best practice in terms of agriculture, development of sustainable supply chains, and social and environmental concerns, and came under three Ecocert standards: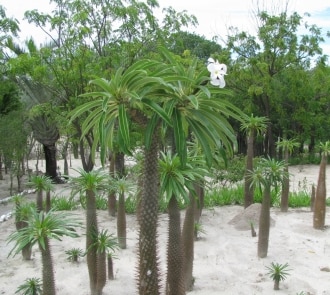 Organic farming
SEAR's 200 hectares of arable land as well as the Ranopiso Arboretum are now certified "organic". Created on our farmland, the arboretum is the only existing botanical conservatory in southern Madagascar. Combined with our Botanical Conservatory in Soual (Tarn, France), it preserves 350 species, of which 20% are CITES* classified.
*CITES (Convention on International Trade in Endangered Species of Wild Fauna and Flora) is an international agreement which confers protected status to over 33,000 wild species, from tiny orchids to large mammals.
Reforestation and solidarity
We have implemented actions to cut our greenhouse gas emissions and reduce our carbon footprint. This took concrete form in a reforestation project in Madagascar. In April 2014, over 15,000 trees were planted to offset emissions of greenhouse gases caused by the 2013 industrial production of our periwinkle based anti-cancer drugs (Navelbine and Javlor) as well as the international travel of Pierre Fabre Foundation employees. This reforestation project will be continued in 2015. In addition to reducing our carbon footprint, the reforestation project creates jobs and contributes to the improvement of soil quality and the preservation of biodiversity. It also contributes to the national objective of fighting deforestation and improving food security by planting fruit trees. In the long term these implanted species may be used for lumber or energy. This project is labeled "Reforestation and solidarity". 
Ecocert responsible according to ESR standards (Equitable, Solidaire, Responsible: Fair trade, Solidarity, Responsibility)
The application of the Group's sustainable development policy at our Madagascan subsidiary was assessed according to the international standard ISO26000 by Ecocert. 93% of the standard's compliance criteria defined by Ecocert are applied at the subsidiary, which is an excellent result, allowing it to obtain the "Ecocert Responsible" label.

This triple certification demonstrates compliance with social and environmental commitments by our Madagascan subsidiary, which fully integrates our Botanical Expertise Pierre Fabre approach.